Executive Director
May 7, 2023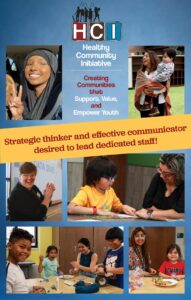 Healthy Community Initiative (HCI) is a nonprofit organization founded in 1992 by community leaders in Northfield, Minnesota who wanted to create a supportive climate where all youth can thrive. This successful effort has grown over the years to include Faribault and communities in Minnesota's Rice County. HCI works at system and community-wide levels to support over thirty high-impact initiatives. The organization's mission is to cultivate collaborative communities in Rice County that support, value, and empower youth.
HCI identifies needs, builds coalitions to develop and run programs, writes grants, tracks data, leads evaluation work, and administers grants. To date, HCI has helped bring in more than $19 million from outside the community to benefit youth and families in Rice County. HCI's unique service model has gained national recognition.
It has never been a better time to connect with HCI and work towards a vision of communities where all youth thrive.
The next HCI Executive Director will build on a solid foundation:
30-year history and strong reputation as an effective, trusted organization
Dedicated, qualified, experienced, knowledgeable staff
Solid relationships with community partners
Commitment and skill to show measurable outcomes and progress by prioritizing data
National recognition and support through StriveTogether® partnership
The HCI Executive Director oversees the work of HCI and its staff. In partnership with the Board of Directors and in collaboration with the HCI leadership team, the Executive Director is responsible for the overall direction of the organization, its fiscal health, and financial oversight.
What the HCI Executive Director does:
Promotes and communicates the overall HCI message with internal and external audiences
Provides leadership for the development of backbone infrastructure and implementation of a broad portfolio of local programs serving youth and families in Rice County, including Cradle to Career initiatives via national leader StriveTogether®
Plans, develops, and monitors policy and fiscal operations for HCI including budget, audit, grant management, compliance with regulations, working with the board Treasurer and the Finance Committee
Sets and enables strategies to reach fundraising goals in partnership with the Board of Directors
The ideal candidate for the position of HCI Executive Director is a strategic and enterprise-wide thinker, an effective communicator with high integrity and passion for HCI's mission, a collaborative decision-maker skilled at building consensus, who works well with staff and Board, understands and values diversity, and builds strong relationships. The candidate will amplify the work of others, has a credible voice and good self-awareness (humility), possesses financial acumen (including fundraising and nonprofit management) plus knowledge and experience in Education/Human Development/Human Services, and is committed to Rice County.
The successful HCI Executive Director will:
Have experience with and clear commitment to a collaborative model that values culturally diverse stakeholders and individuals across the community
Demonstrate strong ability to build effective relationships with staff, community and business stakeholders, non-profit and education partners, and individuals
Recruit and develops effective teams
Have experience with and commitment to data-driven programming
Prioritize the use of cutting-edge technology to create efficiencies in systems and work
Demonstrate excellent communication skills, including strategy and execution
Be prepared to manage a dedicated and talented team, using inclusive decision-making that recognizes the expertise and leadership within the organization (shared leadership model). Experience leading an organization via shared leadership model is a plus
Draw on the creativity of staff to operationalize HCI's mission and bring focus to the work
Have expertise in both coaching experienced leaders and mentoring staff to continue to learn and grow
Demonstrate strong ability to work with committees and Board of Directors
Have a strong track record in fundraising
Live in Rice County, MN area
Annual salary range $110,000-$125,000, depending on qualifications and experience. 
Please apply online using the link below. In your cover letter please include the name, title, and contact information for two professional references.
Questions about the Executive Director position may be directed to executivecommittee@healthycommunityinitiative.org. Please reference "HCI Executive Director inquiry" in the subject line.