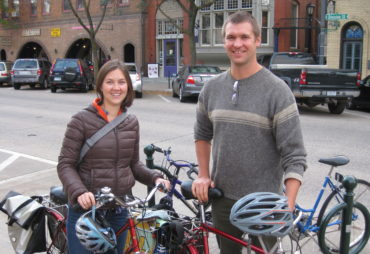 Bicycling Couple is Making a Difference
October 27, 2014
A year after moving to Northfield and immersing themselves in efforts to make the community more bicycle-friendly, Derek and Laura Meyers have received the Healthy Community Initiative's "Making a Difference" Award for September/October. The award celebrates groups and individuals in the community who have a positive influence on Northfield youth.
The young married couple moved to Northfield from San Francisco last October to be closer to family. They had done some volunteer envelope-stuffing-type work for a large bicycling coalition in San Francisco, so a month after their arrival in Northfield, Derek signed up to attend a bicycling event.
"The next thing I knew, I was putting together a resource guide for the event. That would never happen in San Francisco," he said.
Inspired by friends in Spearfish, S.D., Laura and Derek started BikeNorthfield's weekly Cruiser Ride, open to cyclists of all ages interested in a leisurely, 45-minute ride around town. Participants meet on Thursdays at 5:30 p.m. at Bridge Square.
They also attended Books and Stars events over the summer with their "mobile bike unit," along with other members of BikeNorthfield, and taught youth and families how to do simple repairs on their bicycles.
Laura said Northfield already has many positive things in place that encourage bicycling, such as bike racks and bike lanes, but she feels that more safety education is needed.
"We want people to know – kids, adults, everybody – that bikes are supposed to be on the road. They should treat bikes like vehicles," she said.
Bruce Anderson, chair of BikeNorthfield, said it's been a joy to work with the couple.
"I could tell from the first time I met Derek and Laura, at last November's 'Soup and Cycles' gathering, that they would be a force for positive change in Northfield," he said. "They were looking to engage with their new community and were obviously willing to play a leadership role. I've been consistently impressed since with their energy, creativity and positive attitudes."
Photo: Laura and Derek Meyers with their bicycles, parked at one of the new bike racks along Division Street. Photo by Joy Riggs
********************************************
The Healthy Community Initiative and the Northfield News present the Making a Difference Award cooperatively. If you know an individual or group that you would like to nominate for this award, CLICK HERE for nomination guidelines and the easy-to-complete application or find HCI on Facebook.  Applications are accepted on an ongoing basis and are selected by a review team of HCI board members and local youth.