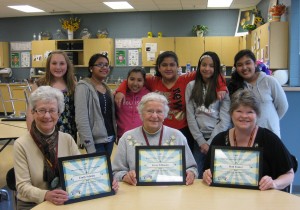 After-school sewing club volunteers are Making a Difference
May 20, 2013
Three local women who led an after-school sewing group at Northfield Middle School have received the Healthy Community Initiative "Making a Difference" Award for May 2013. The award celebrates those groups and individuals in the community who have a positive influence on Northfield youth.
Joyce Schlossin started the group and recruited Beth Endert and Emily Schmitz to assist her. Over a 12-week period, they taught a group of about a dozen girls to make items such as scarves, mittens, headbands, placemats, potholders, pillows and cell phone holders.
"They were pleased – they couldn't believe they could do it," Endert said. "We're already getting ideas for next time."
Susan Sanderson, coordinator of the middle school TORCH program, said the women also taught the girls about the economics of sewing, how to save money and make the most out of every scrap of fabric.
"Joyce and her partners have great energy, and we are so fortunate to have them sharing their skills and love of sewing," Sanderson said.
– Written by Joy Riggs, HCI Board member and freelance journalist
**********************************************************************
The Healthy Community Initiative and the Northfield News present the Making a Difference Award cooperatively. If you know an individual or group that you would like to nominate for this award, click HERE for nomination guidelines and the easy-to-complete application or find HCI on Facebook.  Applications are accepted on an ongoing basis and are selected by a review team of HCI board members and local youth.