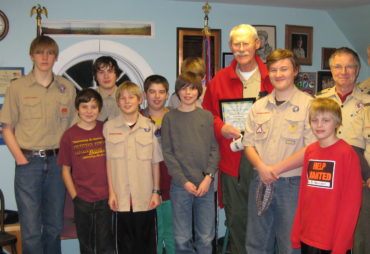 Buchwald and Webster are Making a Difference
March 4, 2013
Two longtime volunteers with a Northfield Boy Scout Troop have received the Healthy Community Initiative's "Making a Difference" Award for January/February 2013. The award celebrates those groups and individuals in the community who have a positive influence on Northfield youth.
Ed Buchwald and Clark Webster have each served as adult leaders of the Carleton-based Troop 337 for more than four decades. Buchwald, a retired Carleton College geology professor, stepped down as Scoutmaster last October but still helps out with the troop, which he started in 1968. Webster joined the troop as its committee chair in about 1970, a position he still holds.
Both men greatly enjoy camping and backpacking, which is one reason they continue to volunteer with the troop, long past the days when their own sons went through scouting. They also have found it rewarding to share their knowledge and enthusiasm for the outdoors with the boys.
"I enjoy watching the kids mature. It's fun to see them learning not only Scout skills, but leadership skills," Webster said. "The Scouts are a great organization for training young boys to become young adults."
Since Troop 337 was formed, 44 boys have achieved the rank of Eagle Scout, and more than 220 have earned badges and participated in troop camping trips, service projects and other activities.
Northfield High School freshman Sebastian Lawler has been in the troop for four years and said he's learned valuable life lessons from both men.
"Mr. B. is an admirable presence; everyone respects him. He's a very honest guy, and he has taught me to always find the bright side of every situation," Lawler said. "Mr. Webster helps organize everything, and he's very good at his job. I've personally learned from him that it's better to be more organized than less."
– Article by Joy Riggs, HCI Board member and freelance journalist
**********************************************************
The Healthy Community Initiative and the Northfield News present the Making a Difference Award cooperatively. If you know an individual or group that you would like to nominate for this award, click HERE for nomination guidelines and the easy-to-complete application or find HCI on Facebook.  Applications are accepted on an ongoing basis and are selected by a review team of HCI board members and local youth.