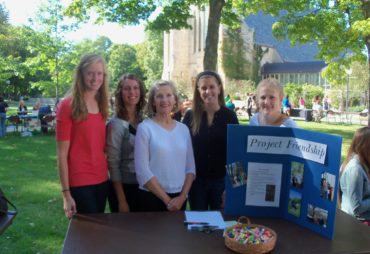 Kathy Lansing is September's "Making a Difference" award winner
September 14, 2010
Kathy Lansing is the September 2010 recipient of HCI's "Making a Difference" Award.  The award celebrates those groups and individuals in the community who have a positive influence on Northfield youth.
Lansing is beginning her eighth year as community director of Project Friendship, a mentoring program that matches college students at Carleton and St. Olaf with Northfield youth in grades 2-7.  Established in 1965, the program aims to develop strong friendships between college students who have made positive choices in their lives and children who need such role models.
Lansing screens and trains the college volunteers and sets up the matches with the younger students.  The youth often are referred to the program by school social workers or teachers; parents also can request applications.  The pairs meet once a week, usually on campus, to spend time doing activities they choose together, like baking cookies or playing a sport.  They also participate in larger group activities.  Last year, the program had more than 80 matched pairs.
"What I enjoy most is when I hear from a parent that their child looks so forward to seeing their college buddy every week, and what a difference it makes in their life," Lansing said.  "The college students feel like they get a lot out of this as well."
Many of the youth come from families that have never been on a college campus, Lansing said.  The program helps the parents feel more comfortable with the college experience, and helps the youth understand why it's important to make good choices and work hard in school.
The HCI and the Northfield News present the Making a Difference Award cooperatively. If you know an individual or group that you would like to nominate for this award, visit  https://healthycommunityinitiative.org/awards/ for nomination guidelines and the easy-to-complete application. Applications are accepted on an ongoing basis and are selected by a review team of HCI board members and local youth.