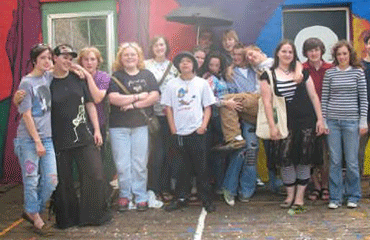 Northfield Union of Youth (NUY) is Making a Difference
May 18, 2007
The Northfield Union of Youth (NUY) is the September 2007 recipient of the Healthy Community Initiative's "Making a Difference Award." The award celebrates those groups and individuals in the community who have a positive influence on Northfield youth.
Founded in 1996, the NUY is among the longest-running youth-run youth centers in the country. Its mission is to empower and create a safe space and programs for youth. The Key, the NUY's facility, is owned and run by the youth board, consisting of 13 young people, and assisted by Josh Hinnenkamp, NUY Executive Director. Membership is free for youth 12-20 years old.
NUY youth members are involved in creating, planning, and implementing a variety of programs, projects and events. Some of the programs facilitated by the NUY are Main Street Mentors, Skateboard Coalition, reading and writing workshops, cooking classes and weekly art projects. In addition, the Key is open daily as a safe, supervised place for youth to gather.
"The NUY creates a very respectful environment where kids come to be heard, to feel ownership and membership and to participate in programs that they design," commented Sarah Kaul, NUY adult board member. "Being at the Key is like being in a tiny healthy community where people listen to each other, and help each other, and have fun doing it."
An involved staff supports NUY youth members in gaining valuable leadership and organizational skills through civic involvement. As an example, this past summer, NUY identified a need and coordinated public meetings that brought together adults and youth to discuss substance abuse issues in the community and plan collaborative action steps to address these issues.
"The kids at the Key were prompt, responsive, mature, diplomatic and constructive. Their wisdom exceeds their ages," said Dr. Jim Evans, who nominated NUY for the award.