Read what local youth have to say about HCI's impact on their lives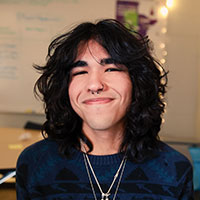 Daniel De La Torre
"Having someone to lean on when school gets difficult is crucial, and TORCH does it with respect and kindness. They have helped me grow academically and as a person, with seemingly endless people and resources to help guide me. Since the 6th grade, TORCH has been a home away from home."
TORCH - NORTHFIELD HIGH SCHOOL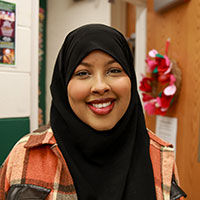 Nasteha Madey
"RISE is my favorite place to go at FHS. It has helped me emotionally and academically. I know I can always go here for support when I need it."
RISE - FARIBAULT HIGH SCHOOL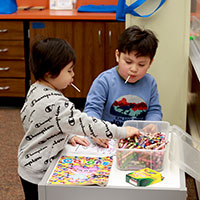 Noah and Joshua
"The Growing Up Healthy team has helped my family with food, clothes
for my little ones, diapers, and other services like help filling out applications for insurance and energy assistance. A million thank yous to the people who
work for this organization. Thank you for always being there for us."
-Kattia Fuentes, mother of Joshua and Noah
EARLY CHILDHOOD NAVIGATORS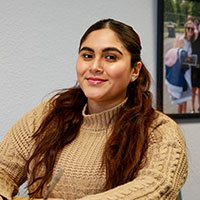 Arleth San Miguel
"I enjoy being at the NCCC because I feel very supported. I am generous
toward my professors because they are committed and dedicated to teaching
their students."
NORTHFIELD COMMUNITY COLLEGE COLLABORATIVE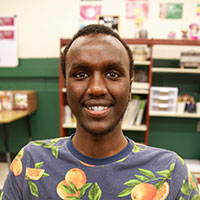 Abdulaziz Abdullahi
"RISE made me reach a level I couldn't even think of. RISE is more than family, it's real love."
RISE - FARIBAULT HIGH SCHOOL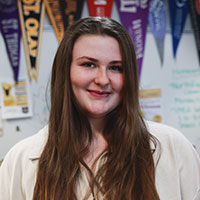 Gracee Poe
"TORCH is my home away from home."
TORCH - NORTHFIELD HIGH SCHOOL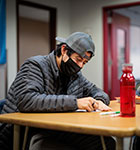 Chris Rosas Bermudez
"I come to TORCH because I get all of the academic help that I need. It is a kind and respectful environment where the staff are friendly and helpful. They also push us to our limits to accomplish our goals."
Chris is a PSEO student and is active at St. Dominic's church, where he plays piano, drums, and bass.
TORCH - NORTHFIELD HIGH SCHOOL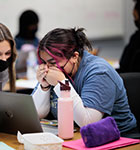 Ariana Perez Vazquez
"TORCH is a safe environment that can also motivate you to do better. It helps students discover their true selves."
Ariana is a PSEO student and will be a Rotary exchange student after graduation
TORCH - NORTHFIELD HIGH SCHOOL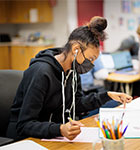 Danaysia Johnson
"TORCH is really helpful. The staff help me with everyday life choices and figure out what my life after high school will be like. TORCH is inclusive for all students as well. It's a comfortable environment where anyone can come when they need help with something."
Danaysia is involved in the Black Student Union and cheerleading at Northfield High School.
TORCH - NORTHFIELD HIGH SCHOOL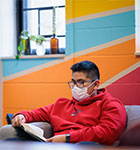 Joseph Ascencio Bravo
"I come to TORCH because everyone is included and can have their own opinion. There are people of all different colors, and the staff are very helpful with whatever you need, whether that be academics or something outside of school."
Joseph plays football and track at NHS and is a PSEO student.
TORCH - NORTHFIELD HIGH SCHOOL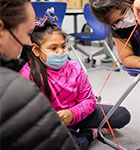 Miranda
"I like art because we make posters and stickers. I like gym. I read with people here, and I like doing that."
GREENVALE PARK COMMUNITY SCHOOL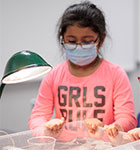 Daniela
"I like that we do homework so we don't have to do it at home. I get to learn stuff, play with friends, and have fun. I like playing outside and in the gym. I just like all the PLUS activities."
GREENVALE PARK COMMUNITY SCHOOL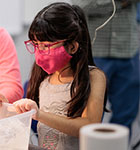 Love
"I like to play, do fun stuff, and learn. I get to do those here. I really liked it when we went to the ice rink and played."
GREENVALE PARK COMMUNITY SCHOOL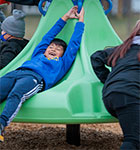 Alex
"I like community school because it's fun. We get a snack at the end of the day, and I get to hang out with my friends. I like gym and Magic Club."
GREENVALE PARK COMMUNITY SCHOOL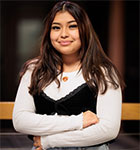 Litzy Conde Acosta
"I am studying to become a behavioral mental health therapist for children and teens. The many ways this fellowship has helped me include buying my textbooks for me and offering job opportunities that correlate with what I want to become."
Litzy is a Rice County Chemical and Mental Health Fellow and NCCC student.
NORTHFIELD COMMUNITY COLLEGE COLLABORATIVE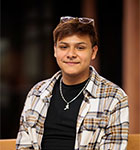 Arturo Gomez
"TORCH and the NCCC have not just helped me set goals for myself, but have helped make it possible for me to accomplish them. They have provided support every step of the way."
TORCH alumnus, current NCCC student and Public Sector Fellow
NORTHFIELD COMMUNITY COLLEGE COLLABORATIVE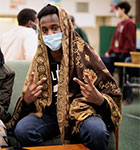 Mohamed Hassan
"RISE means help, care, and family to me. RISE has helped me when I was really struggling in school and in life in general."
RISE - FARIBAULT HIGH SCHOOL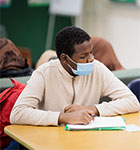 Abdinasir Muhumed
"RISE is a fun place where they explain my homework to me."
RISE - FARIBAULT HIGH SCHOOL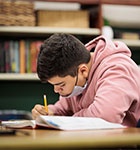 Diego Martinez Aguirre
"RISE means family, dedication, and strength so that I can withstand obstacles in schools."
RISE - FARIBAULT HIGH SCHOOL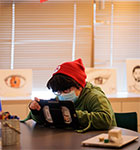 Yurem Blancarte Hernandez
Yurem Blancarte Hernandez says she likes the RISE room because it's quiet. "They help me do homework and make teacher connections."
RISE - FARIBAULT MIDDLE SCHOOL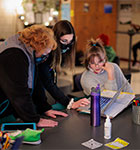 Chloe Chappuis
"What I like about RISE is all the help and support. It helps motivate me to get my homework done and to get good grades."
RISE - FARIBAULT MIDDLE SCHOOL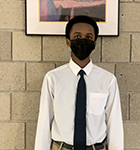 Khalif Abdi
"I like the room and how there is always somebody to help you when you need help. RISE helps me get my grades up."
RISE - FARIBAULT MIDDLE SCHOOL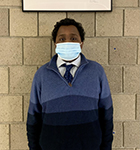 Warsame Muhumed
"What I like about RISE is that I get help with my assignment and make sure I have no missing assignments. Being in RISE has helped me improve in my work and in getting better grades and turning in assignments on time."
RISE - FARIBAULT MIDDLE SCHOOL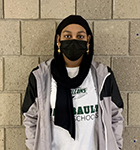 Fatumo Ahmed
What I like about RISE is that they help me stay on track, get good grades, and make sure I don't have missing work. What RISE does for me is help me work on my assignments and get them done."
RISE - FARIBAULT MIDDLE SCHOOL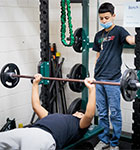 Diego Galindo and Alejandro Munoz
"I go to clubs because I can see friends and have fun. It is a nice break after a long day."
"My club lead teaches me new things everyday. I get to practice my lifts safely and with friends!"
FARIBAULT COMMUNITY SCHOOL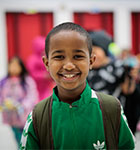 Abdijabar Aden
"I love coming to Community School clubs to play games with friends."
FARIBAULT COMMUNITY SCHOOL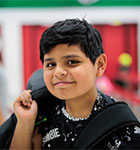 Joaquin Zamora
"I love coming to Community School clubs to play in the gym and make new friends."
FARIBAULT COMMUNITY SCHOOL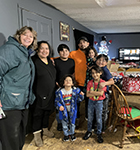 Ashley Martinez
"Growing Up Healthy is a great program. They help with resources and with family needs. Being in the program helps us grow, especially the children. My son loved his home visit, and the activities that they do really made him come out of his shell."
GROWING UP HEALTHY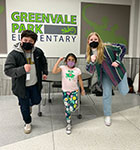 Xiomara Gomez Martinez
"I like to learn about food. My favorite foods are carrots, broccoli, and tomatoes. I love green beans, and I'm excited to try the new foods with tasty tastings. Miss Julia and Mr. Diego are fun, and I like to run!"
Xiomara is a second grader at Greenvale Park Elementary School and an active participant with Healthy Ways and after-school programming.
HEALTHY WAYS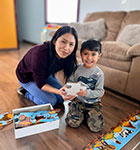 Obdulia Marcial Paz
"This program has helped my family a lot, especially with my child's learning development and for me as a mother to interact with him. It is fun to learn, play, and interact with my son with the toys and the books that are provided. It means a lot to my family. He now knows his alphabet. I want to thank the program for the help they offer and are giving us and to our teacher, Laura, for her dedication to the children, for helping us with the early learning of our children. Many thanks!"
PARENTCHILD+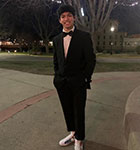 Ricky Cordova
"What I enjoy about YouthBank is how it's all youth driven, and how youth can take the lead to help their community. It's fun, and it helps me understand and learn different parts of my community to help youth who also want to make a change in our community."
FARIBAULT YOUTHBANK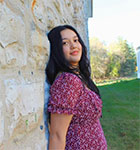 Natalie Gonzalez
"Being in YouthBank has been my favorite part of my high school experience. It's easy for adults to underestimate young people and not take them seriously. I have loved giving them a platform where they can be passionate about solving issues that are important to them, as well as issues that are important to me."
NORTHFIELD YOUTHBANK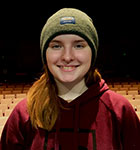 Ella Chappuis
"What I enjoy about being on the theater committee is that I get to learn and be a part of decisions that are being made. I also get to be more involved with our community theater."
FARIBAULT YOUTH ON BOARDS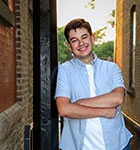 Brekken Modory
"Having witnessed the effects of addiction firsthand, I am passionate about trying to stem substance abuse in any way I can. Joining in the Youth on Boards program and N-ASAP has allowed me to promote this work throughout the community, and it has been a highlight of my time in high school."
NORTHFIELD YOUTH ON BOARDS
Check out these videos to see how HCI has supported youth and the communities over the years!
More than 30 years ago, HCI started as a small, youth-focused nonprofit in Northfield. For more than a decade, HCI has also provided backbone support to programs that serve youth and families in Faribault, including Growing Up Healthy and Tri-City Bridges to the Future. The youth featured in the profiles and videos below demonstrate the expanded reach of HCI's work across these two Rice County communities. Click the videos to learn more!
---
Meet a few community members who have benefited from HCI programs

Omar Aden (Class of 2023)
"RISE has given me a quiet work place, academic support when I need it, and keeps me on track with my school work each week. It has helped me explore career opportunities and participate in events I might otherwise have not thought of myself."
– Omar
Faribault High School
RISE participant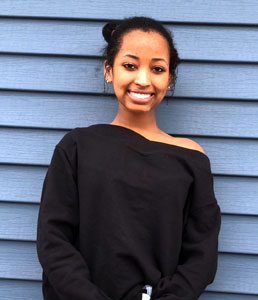 Sarah Engbrecht (Class of 2022)
"YouthBank has allowed me to learn more about the Faribault community and has given us members an opportunity to improve it. I have also gained leadership skills by evaluating, deciding, and planning through the grant application process."
– Sarah
Member of Faribault YouthBank
Faribault High School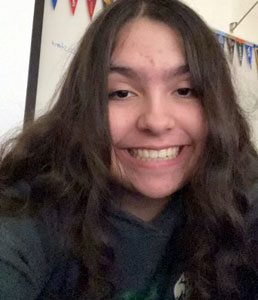 Katlyn Katra (Class of 2023)
"YouthBank has provided me with opportunities to expand my knowledge of problems and issues in the community and to learn how youth can be involved to help better them."
– Katlyn
Member of Faribault YouthBank
Faribault High School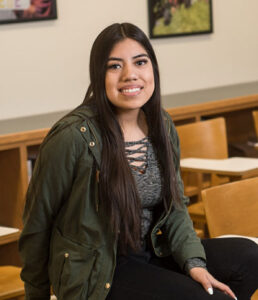 Yamile Hernandez
"Reading Corps has taught me a lot of responsibility, because it's a Monday-through-Friday job. I have to keep up with their scores and their charts, and I have meetings every month to talk about each student, and what we could do to help them grow."
– Yamile
Northfield High School 2018 alumna
Minnesota Reading Corps Tutor
Student at Riverland Community College through the Northfield Community College Collaborative (NCCC)

Rodrigo Ortiz
"If you want to take driver's ed, and you have to pay like $150, the Tri-City program will cover it. Same with Behind the Wheel, which costs even more."
– Rodrigo
• Northfield High School 2021 alumnus
• TORCH participant
• Tri-City Bridges to the Future participant
• Growing Up Healthy summer volunteer

Katie Brust
"Being a member of this commission (Northfield ASAP) not only provided me with an understanding of complex drug-related issues and public ethics, it gave me the experience of interacting with members of my own community outside the high school walls."
– Katie
• Northfield High School 2018 alumna
• Former member of the Northfield Alliance for Substance Abuse Prevention