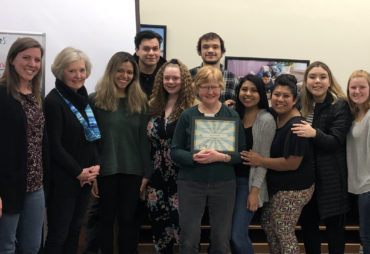 Kay Smith is Making a Difference for Northfield Community College Collaborative Students
April 22, 2020
The Healthy Community Initiative (HCI) recognized Kay Smith with the March/April 2020 "Making a Difference Award."
The Making a Difference recognition is given to a community member or organization who helps make Northfield an even better place for young people.
When HCI recognized that some high school graduates faced barriers to enrollment in post-secondary programs, the Northfield Community College Collaborative (NCCC) was born. The program enables students to earn an Associate's degree without leaving Northfield. NCCC began operation in partnership with Riverland Community College in the fall of 2018; during the first year, 45 students took in-person and online classes through the NCCC.
Katie Theis, NCCC Director, describes Smith's role saying, "Kay has dedicated hundreds of hour tutoring students in math and teaching an intermediate algebra class. Math is not an easy subject for many students, but Kay's ability to explain it is one of her greatest strengths, as is her flexibility and understanding of students' lives outside of the classroom."
"Having had a successful career as a professor and academic advisor at St. Olaf College, Kay is instrumental in helping students learn what math classes are required for their major and in pursuit of a degree," Theis continued. "The program would not be the same without Kay's efforts."
Students agree about Smith's influence. Student Adriana Bermudez noted, "She is so focused and motivates us to do better. She made tutoring lots of fun!"
Maggie Lindenfelser commented about her experience saying, "Besides helping me with my math classes, she took time out of her summer vacation to tutor me in accounting, a subject that she didn't have any experience in, but learned so she could help me. Without her help and continued dedication, I would not be where I am today."
Lorena Rodriguez said, "Kay gives us advice and motivates us toward our plans and goals. She is sure we can do things and her confidence makes us feel more confident to approach our goals."
The Healthy Community Initiative and the Northfield News present the Making a Difference Award cooperatively. If you know an individual or group that you would like to nominate for this award, visit healthycommunityinitiative.org/about/making-a-difference-award for nomination guidelines and the easy-to-complete application – or find HCI on Facebook. Applications are accepted on an ongoing basis and are selected by a review team of HCI board members and local youth.