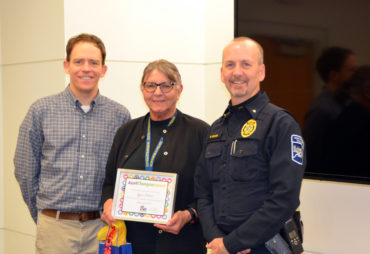 Lynn James is Making a Difference in Preventing Drug Abuse
March 9, 2020
The Healthy Community Initiative (HCI) recognized Lynn James with the January/February 2020 "Making a Difference Award."
The recognition is given monthly to a community member or organization who helps make Northfield an even better place for young people.
Lynn James is the Property & Evidence Technician for the Northfield Police Department. A part of Lynn's responsibilities is overseeing the prescription drug collection effort known as "Take It To the Box (TITTB)." The Department was a founding partner in the collection effort from its beginning in 2009. In collaboration with Faribault Police Department, Rice County Sheriff's Office and the Rice County Chemical & Mental Health Coalition, TITTB was one of the state's first permanent prescription drug take-back programs, developed to keep drugs out of the hands of young people.
Lynn has been the point person for Northfield since the program began. She monitors the box daily, weighing the contents at least once per week. She keeps a record of the contents and helped coordinate 66 trips with the Faribault Police Department and the Rice County Sheriff's Office to the incinerator for disposal. To date, 14,018 pounds of drugs have been collected in Northfield, contributing to a county-wide total of over 28,000 pounds (14 tons!).
Lynn's work is essential to the project, which helps keep drugs away from youth in the county. "Lynn has fielded many questions from the public about the program on behalf of the Police Department," said Mark Elliot, Northfield's Deputy Police Chief. "The Northfield Police Department is grateful for all of the hard work that Lynn has put into the Take it to the Box program!"
The Healthy Community Initiative and the Northfield News present the Making a Difference Award cooperatively. If you know an individual or group that you would like to nominate for this award, visit healthycommunityinitiative.org for nomination guidelines and the easy-to-complete application – or find HCI on Facebook. Applications are accepted on an ongoing basis and are selected by a review team of HCI board members and local youth.