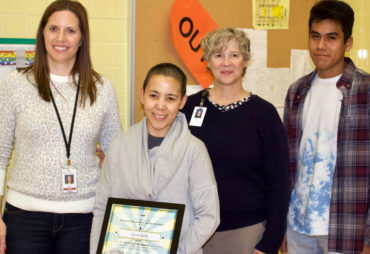 Anna Kelly is Making a Difference for Community School Youth
November 5, 2019
The Healthy Community Initiative (HCI) recognized Anna Kelly with the November 2019 "Making a Difference Award."
The Making a Difference recognition is given monthly to a community member or organization who helps make Northfield an even better place for young people. Anna was singled out for her exceptional work at the Greenvale Park Elementary School and the Greenvale Park Community School.
Anna is a club leader in the afterschool PLUS Program at Greenvale Park. In addition, she also offers three other STEM and art clubs open to all students. 3D Doodler is a club where students learn about and use 3D technology. Doodle Club is an art club and the STEM Club she offers gives students a new STEM activity each week. The clubs are so popular that Middle School students come back for evening clubs.
Laura Berdahl, Greenvale Park Community School Co-Coordinator, noted that Anna started at Greenvale Park as a Math Corps tutor. Her work with students struggling in math sparked her interest in becoming a teacher. Anna pursued her education degree while working at Greenvale as the Media Specialist and as an after school club leader. She completed her degree in May and is now a licensed teacher.
Berdahl was complimentary of Anna's work, noting Anna's "high and clear expectations of her students, which they respond to because her clubs are so much fun."
"We surveyed her Doodler club attendees last year, asking about something new they learned," said Berdahl. "Students comments included 'I need to challenge myself,' and 'Nothing is impossible.' These are certainly great life lessons to learn!"
Anna student taught with Greenvale Park teacher, Jackie Harding. Jackie also sang Anna's praises, especially about the way she relates to youth, highlighting her respect for and understanding of her students. Jackie summed it up saying, "I have never met or worked with anyone who goes so far above and beyond to help each student be their best self in their work and life and be so humble about it."
The Healthy Community Initiative and the Northfield News present the Making a Difference Award cooperatively. If you know an individual or group that you would like to nominate for this award, visit www.healthycommunityinitiative.org for nomination guidelines and the easy-to-complete application – or find HCI on Facebook. Applications are accepted on an ongoing basis and are selected by a review team of HCI you and adult board members.