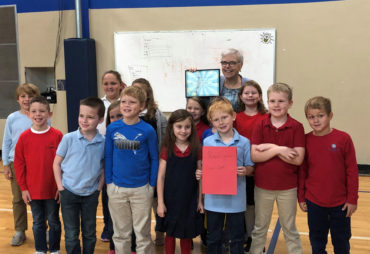 Dot Lauer is Making a Difference for Young Readers
October 16, 2019
The Healthy Community Initiative (HCI) recognized Dot Lauer with the October 2019 "Making a Difference Award."
The Making a Difference recognition is given monthly to a community member or organization who helps make Northfield an even better place for young people.
According to friends and colleagues, Dot moved to Northfield a number of years ago for family reasons. She had been a math teacher in Milwaukee. Retired-teacher-turned-volunteer, Lauer transformed a volunteer stint into a 13-year commitment with St. Dominic School. Helping young students become proficient in reading is an important factor in academic success.
Colleague and St. Dominic first grade teacher, Jane Jeffries described Lauer as a master teacher. Jeffries commented, "Dot is competent in assessing a child's needs and delivering the most appropriate instruction. It is apparent she is passionate about her work, and thoroughly enjoys her time with children."
Jane Sletten teaches at St. Dominic in second grade. She, too, has great appreciation for Lauer's volunteer efforts. Sletten reported, "Dot comes once a week and reads with 3 or 4 kids each time. My students beg to go with her even if they are excellent readers. Dot helps us a great deal and never expects anything in return. We love having her. She makes our students feel so special and guides them to become better readers."
The Healthy Community Initiative and the Northfield News present the Making a Difference Award cooperatively. If you know an individual or group that you would like to nominate for this award, visit this webpage for nomination guidelines and the easy-to-complete application – or find HCI on Facebook. Applications are accepted on an ongoing basis and are selected by a review team of HCI board members and local youth.