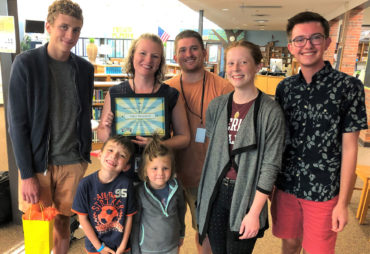 Valori Mertesdorf is Making a Difference
September 3, 2019
The Healthy Community Initiative (HCI) recognized Valori Mertesdorf with the August 2019 "Making a Difference Award."
The Making a Difference recognition is given monthly to a community member or organization who helps make Northfield an even better place for young people.
As the Director of Finance for Northfield Public Schools, Val has gone "above and beyond" in working with students funded under the YouthBank program. YouthBank is an innovative youth philanthropy program in which a team of trained youth grant-makers award funds to youth-led projects that will improve the quality of life in Northfield. Val has been instrumental in helping student grantees by her willingness to have the District serve as the fiscal agent for their projects and then working with the students throughout the grant process. According to the nomination received by Healthy Community Initiative, "She is patient and kind and willing to find a way to make things work for the students."
Northfield YouthBank Adult Advisor, Meleah Follen noted, "Val works with the students to understand budgeting, appropriate use of grant funds, the responsibility that comes with having access to money, and how to be accountable. There are several projects that would not have been able to move forward without her working with and supporting the students."
"She was fantastic to work with." That's what Grace Muth, a student at Northfield High School, said about Mertesdorf. Muth applied for and received a grant to provide free menstrual supplies in all the bathrooms. The grant also included work toward creating gender-neutral bathrooms at the school. Grace shared that her group met with Mertesdorf in order to be able have Northfield Public Schools serve as the fiscal agent for their project.  Muth shared, "She gave us advice about the best way of applying for the grant, as well as about getting and using the grant funds. Sometimes people don't take youth efforts seriously, but she was so willing to help us."
Taking youth interests seriously, helping to develop skills, and being a support are what the Making a Difference Award is all about. In every way, Valori Mertesdorf embodies the spirit of the award.
The Healthy Community Initiative and the Northfield News present the Making a Difference Award cooperatively. If you know an individual or group that you would like to nominate for this award, visit this webpage for nomination guidelines and the easy-to-complete application – or find HCI on Facebook. Applications are accepted on an ongoing basis and are selected by a review team of HCI board members and local youth.