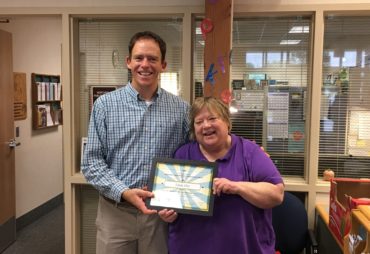 Linda Oto is Making a Difference
September 19, 2019
The Healthy Community Initiative (HCI) recognized Linda Oto with the September 2019 "Making a Difference Award."
The Making a Difference recognition is given monthly to a community member or organization who helps make Northfield an even better place for young people.
Retiring this month, Oto has served as the Youth Development Coordinator for Northfield Public Schools since August, 2000. Kate Lovrien, Northfield Middle School TORCH Director, is someone who has seen the impact Linda has on students. Lovrien notes, "Linda has given years of dedication and hard work to Middle School Youth Center students and staff. She has facilitated impactful mentor relationships through Connected Kids, created engaging and educational club activities, and, most importantly, created environments where youth feel welcomed and affirmed after school and during the summer months.
"Not only has Linda been the guiding force behind the Middle School Youth Center, she has also mentored and supported many college volunteers and staff members."
Matthew Walsh, Site Lead at the Middle School Youth Center, also expressed appreciation for having worked with Oto. "I have worked with Linda for the past three years at the Middle School," Walsh said. "She cares deeply about the students she works with and is always willing to advocate for them and their best interests. Linda ensures that students' voices are heard when we are planning programs or making changes, even when students are reluctant to share their opinions."
Oto's work over the years in out-of-school time and mentoring programs has offered challenges, support and the presence of a very caring adult in the lives of countless Northfield students. An 8th grade student who participated in the Middle School Youth Center and BLAST (a skills-building program offered by Northfield Public Schools) programs gives a glimpse into the difference Oto's work has made. "I like BLAST because it keeps me active over the summer and makes me learn new things like cooking," she said. "Having a mentor has helped me get better grades and helped me with my homework and helped me succeed in my educational career." Linda Oto's work is Making a Difference, indeed.
The Healthy Community Initiative and the Northfield News present the Making a Difference Award cooperatively. If you know an individual or group that you would like to nominate for this award, visit this webpage for nomination guidelines and the easy-to-complete application – or find HCI on Facebook. Applications are accepted on an ongoing basis and are selected by a review team of HCI board members and local youth.