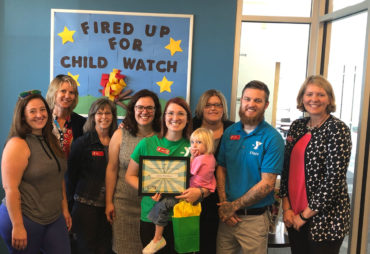 Lissa Branham is Making a Difference at the "Y"
August 2, 2019
The Healthy Community Initiative (HCI) recognized Lissa Branham with the July 2019 "Making a Difference Award."
The Making a Difference recognition is given monthly to a community member or organization who helps make Northfield an even better place for young people.
Lissa is the lead teacher in the Northfield Area Family YMCA's preschool program and a member of the Child Watch staff. The Y's preschool programs offer young children a variety of fun experiences where they can make friends and learn skills. Child Watch provides parents a safe place for young children while they work out. Through both of these programs, children play and learn social skills, positive values and healthy habits.
Colleague Alison Haider, Program Director, notes many examples of how Lissa is contributing to the development of her young Y visitors. Alison commented, "Lissa works to make a difference. Staff, parents, and kids at the Y often comment on her positive spirit. Whether parents stay to play, or leave to take a rare minute for themselves, they know that their children will have a positive, safe experience with Miss Lissa."
Danelle Smith, another colleague at the Y, was also complimentary of Lissa's work. Danelle noted, "Lissa has gained such an incredible following with her work in our preschool programming. Her enthusiasm and creativity make her such an incredible person for the job."
The Healthy Community Initiative and the Northfield News present the Making a Difference Award cooperatively. If you know an individual or group that you would like to nominate for this award, visit www.healthycommunityinitiative.org for nomination guidelines and the easy-to-complete application – or find HCI on Facebook. Applications are accepted on an ongoing basis and are selected by a review team of HCI board members and local youth.