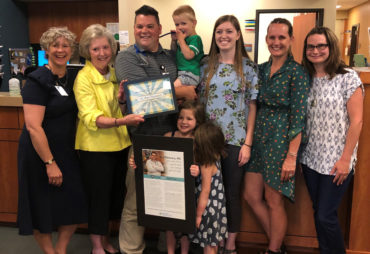 Dr. Ben Flannery, Making a Difference in Child Development
July 17, 2019
The Healthy Community Initiative (HCI) recognized Dr. Ben Flannery with the June 2019 "Making a Difference Award."
The Making a Difference recognition is given monthly to a community member or organization who helps make Northfield an even better place for young people.
Dr. Flannery is a Northfield pediatrician who thinks of children's wellness as more than their physical health. Fritz Bogott, Chair of the Northfield Promise Reading Team is grateful for his support of reading skills and says, "Dr. Flannery led the introduction of the Reach Out and Read program to Northfield. Thanks to Dr. Flannery, Northfield Hospital & Clinics pediatric patients now receive a free book and a prescription for reading aloud at each well-child visit." Subsequently, Flannery helped extend the program to reach young patients visiting the Allina and HealthFinders clinics.
Dr. Flannery is now also working with Northfield Promise's Early Childhood Navigators program. The program works with Northfield families of young children, helping them overcome obstacles that interfere with kindergarten readiness. In an office visit, if children ages 2 to 5 years are falling behind in developmental milestones, Dr. Flannery and other physicians connect their families to a Navigator. The Navigator visits the family and makes connections to resources for the child, such as preschool opportunities (including scholarships).
A recommendation from the child's doctor can help families know where to turn for help. Having Navigators, Flannery says, "helps all of my patients and gives me more tools as a provider to help families… I want Northfield Hospital and Clinics to be part of the community, to be part of early childhood education and assistance because it all builds towards kids doing better in school."
Liliana Ramos and Kayla Wolff, Northfield's two Early Childhood Navigators, are very clear about how Dr. Flannery has been instrumental in referring families to the program. Kayla commented, "Whether families are hoping to enroll in preschool but don't know how or desperately in need of daycare but would struggle to pay for it, Dr. Flannery sends them to us. You can tell he truly cares about the futures of the children in our community." Liliana also credits Dr. Flannery with supporting the program, saying, "We are extremely grateful to Dr. Flannery for the wonderful referrals he has sent our way over the past year —  seeing families and kids thrive once they get connected to the appropriate resources is incredibly gratifying and it would not be possible without Dr. Flannery."
The Healthy Community Initiative and the Northfield News present the Making a Difference Award cooperatively. If you know an individual or group that you would like to nominate for this award, visit www.healthycommunityinitiative.org for nomination guidelines and the easy-to-complete application – or find HCI on Facebook. Applications are accepted on an ongoing basis and are selected by a review team of HCI board members and local youth.