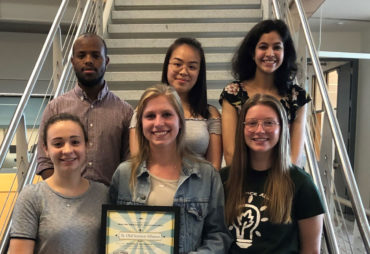 The St. Olaf Science Alliance is Making a Difference
May 24, 2019
The Healthy Community Initiative (HCI) recognized a group of St. Olaf students known as the Science Alliance, with the May 2019 "Making a Difference Award."
The Making a Difference recognition is given out monthly to community members or organizations helping make Northfield an even better place for young people.
The Science Alliance is a STEM education outreach program bringing hands-on, exciting science experiences to 3rd-5th grade students in the Northfield area. Student volunteers visit throughout the school year at after-school programs and community outreach events. During the 2018-19 school year, Science Alliance members worked at Bridgewater, Sibley and Greenvale Park schools once a week from November and through May.
Savannah Stuckmeyer, Co-Coordinator at Greenvale Park Community School complimented the Science Alliance's involvement. "Science Alliance has been helping lead clubs at the Greenvale Park PLUS program for several years. They are consistent, engaging, and the content they use to teach the students is unique. The purpose of the PLUS program is to extend the school-day without it feeling like school, and Science Alliance lives up to this standard. We often hear from our 4th and 5th graders that they enjoy Science Alliance and look forward to them coming each week."
Elizabeth Valentine, teacher at Sibley, also had high praise for the group. "My third grade English language learners were studying the sun and we came across information about how the sun is made of hydrogen and helium. One of my 3rd grade students, who also participated in PLUS, said excitedly, 'Oh yes, we studied atoms with Science Alliance and helium was one we drew'! What a great connection to other learning!"
Meeting with Science Alliance leaders and their faculty advisor, Professor Greg Muth, the students' enthusiasm was evident. Julia noted it was a fun way to earn volunteer hours and get involved in the community. Jessica was always interested in science and felt her involvement contributed to a good cause. Helen said it gave her a chance to get off campus and helped her grow as a person. Another student, Jessica, said she had worked with kids since she was 12 and this was a way of learning and having fun. Paige's favorite lesson was one in which they talked about different kinds of medical doctors. When she asked one of students what kind of doctor he wanted to be, he said, "A good one!" Muth has been involved since 2010 when the group started. He remains committed because he wants to get "the best young minds exposed to the field of education."
The Healthy Community Initiative and the Northfield News present the Making a Difference Award cooperatively. If you know an individual or group that you would like to nominate for this award, visit healthycommunityinitiative.org/about/making-a-difference-award/ for nomination guidelines and the easy-to-complete application – or find HCI on Facebook. Applications are accepted on an ongoing basis and are selected by a review team of HCI board members and local youth.