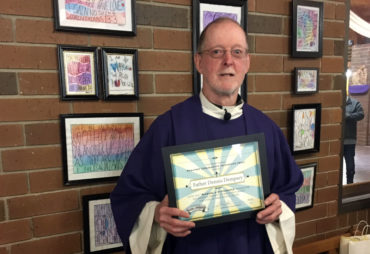 Fr. Denny Dempsey is Making a Difference
April 24, 2019
The Healthy Community Initiative (HCI) recently recognized Fr. Denny Dempsey, pastor at the Church of St. Dominic, with the April 2019 "Making a Difference Award."
The Making a Difference recognition is given out monthly to community members or organizations that help make Northfield an even better place for young people.
Fr. Denny accepted the call to St. Dominic in 2004 and has made both Northfield and the parish his home since that time. Fr. Denny is well-known for his work around immigration and ministry to Hispanic families in the community.
Claudia Bauer, Latino Youth Coordinator from the Office of Latino Ministry at the St. Paul Archdiocese, noted that Fr. Denny opened the doors to the community for various listening sessions. Bauer cited a recent example, saying, "He invited our Police Chief, Monte Nelson, to visit with the community after mass regarding incidents of racism. I can tell you Fr. Denny has done a great deal of work for immigration."
Mar Valdecantos relayed her experience working with the Human Rights Commission to understand challenges for Spanish-speaking families in Northfield. Mar said, "As I was explaining the idea to Fr. Denny, I couldn´t even finish the sentence. He was so enthusiastic about it. He saw clearly the benefit to the community from having us there. He offered whatever was needed, a table, chairs, a closet if we needed all of that." Father's hospitality helped the group collect valuable input from families.
Mary Quick spoke of Fr. Denny's long-time friendship with her family. With his love for music, Fr. Denny encouraged her oldest daughter's musical talents. According to Mary, "Father encourages many students to play instruments or sing for mass. Our daughter has joined a worship group at college and I know his influence in our life aided her decision."
The Healthy Community Initiative and the Northfield News present the Making a Difference Award cooperatively. If you know an individual or group that you would like to nominate for this award, visit www.healthycommunityinitiative.org for nomination guidelines and the easy-to-complete application – or find HCI on Facebook. Applications are accepted on an ongoing basis and are selected by a review team of HCI board members and local youth.