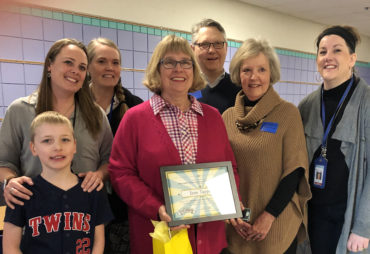 Jane Tapper is Making a Difference
March 25, 2019
The Healthy Community Initiative recently recognized Jane Tapper, volunteer at Bridgewater Elementary School, with the March 2019 "Making a Difference Award."
The Making a Difference recognition is given out monthly to community members or organizations that help make Northfield an even better place for young people.
Tapper volunteers at Bridgewater Elementary School, helping students who struggle with reading. As a retired teacher, Jane has a wealth of knowledge and expertise in the field of reading acquisition. She currently works with students individually in kindergarten through third grade twice a week.
"Jane is an extremely hard working and dedicated volunteer. She is very devoted to her role at Bridgewater and we truly appreciate the expertise she brings in support of struggling readers," said Inger Hanson, Bridgewater's instructional coach.
Hanson also noted that Jane helps children acquire the reading skills necessary to be successful in the classroom.
"Her data shows that what she is doing moves the needle and is making a difference in their lives. We could not support as many students with individual help without the phenomenal volunteering given to the Bridgewater community from Jane," said Hanson.
Erin Hall, mom and first grade teacher at Bridgewater, described Tapper's interaction with her own daughter, Maddie.
"Jane is simply the most caring, kind and loving person. She opened her home to my daughter several times throughout the summer because she 'wanted her to stay on track.' She helped encourage Maddie and brought back her love of reading," said Hall.
When asked if her name could be used in Tapper's award, Maddie said, "Well, yeah! I mean Jane helped me learn to read! She should get an award!"
Pam Charlton, another first grade teacher, noted that Tapper gives tirelessly of her time to help kids learn the foundational pieces of reading. She noted Tapper's expertise helps student reach — and even surpass — reading goals and gives them the confidence to see themselves as readers.
"The students love working with Jane. Her calm demeanor and encouraging personality put kids at ease and help them soar," said Charlton.
Everyone seems to agree! Jane Tapper is always willing to go the extra mile to make sure students are making progress.
The Healthy Community Initiative and the Northfield News present the Making a Difference Award cooperatively. If you know an individual or group that you would like to nominate for this award, visit healthycommunityinitiative.org for nomination guidelines and the easy-to-complete application — or find HCI on Facebook. Applications are accepted on an ongoing basis and are selected by a review team of HCI board members and local youth.
Photo: Jane Tapper accepts the March Making a Difference Award, accompanied by (left to right) her grandson, teacher Lahna Tran, teacher Kristen Cade, Connie Nelson (HCI board member), Randy Olson (HCI board member) and teacher Pam Charlton.