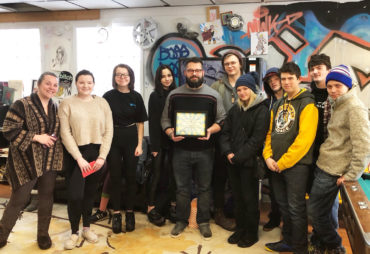 Ben Heath is Making a Difference
February 27, 2019
The Healthy Community Initiative (HCI) recently recognized Ben Heath of the Northfield Union of Youth (NUY) with the January 2019 "Making a Difference Award."
The Making a Difference recognition is given out monthly to community members or organizations that help make Northfield an even better place for young people.
Heath is a Youth Advocate and the Coordinator of The Key, a youth-run youth center in downtown Northfield. He joined the staff of the NUY after several years working as a teacher.
Emily Fulton, Executive Director of the NUY, commented about the addition of Heath to the NUY. "Everything about the experience with Ben has been a great fit," Fulton said. "He is compassionate, empathetic and he listens, giving young people the space to figure out how to move their lives forward."
Heath is instrumental in The Key's quest to be preventive rather than reactive. He has a knack for building healthy relationships even with youth who've had past challenges. In him, young people find an adult that they can trust completely. He is particularly skilled at finding and connecting to community resources.
Fulton shared that Heath had recently encouraged four youth from The Key to help a clean-up in one of the neighborhoods.  Because of their relationship with him, the young people participated in the clean-up. As a result, the owner of the sanitation company (who had been at the site) offered to investigate employment opportunities at his company for the youth.
Ben is known to write character references for young people, go to court with them, and create opportunities that fit with their passions.
The value of his work is not lost on the youth he serves. Brooke Schultz, a member of the NUY noted, "Ben is a kind, hardworking person. And I consider him one of my closest confidants. He takes time out of his busy day to come to the Key to hang out with me and help me, and does the same for EVERYONE else. I appreciate him so much and I'm very happy he's a part of my life."
The Healthy Community Initiative and the Northfield News present the Making a Difference Award cooperatively. If you know an individual or group that you would like to nominate for this award, click here for nomination guidelines and the easy-to-complete application – or find HCI on Facebook. Applications are accepted on an ongoing basis and are selected by a review team of HCI board members and local youth.