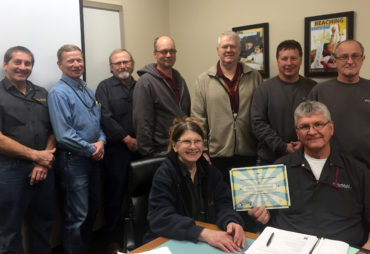 Northfield School Custodians are Making a Difference
December 27, 2018
Healthy Community Initiative (HCI) recently recognized the custodians from Northfield Public Schools for the December 2018 Making a Difference Award.
The Making a Difference award is given out monthly to community members or organizations that help make Northfield an even better place for young people.
This month's award goes to a group of people who often the first and last students and staff see when they come to school. The custodians of the Northfield Public Schools are active partners in helping create a pleasant, positive attitude in schools from early childhood to high school.
Connie Nelson, HCI Board member agrees. "Having taught in the Northfield Public Schools for 28 years and still a frequent visitor to the buildings, I continue to stand in awe of all that our custodial staff do for students and staff. They go above and beyond to support Northfield's young people day in and day out. We are excited to publicly celebrate them through this recognition."
Jim Kulseth, Director of Buildings and Grounds for Northfield Public Schools had high praise for the custodians. "They are constantly focused on what goes on each day for the students and responding to those needs. The custodians are one of the best aspects of my job," Kulseth said.
The District's custodians put in a tireless effort in their work. They take ownership of keeping the buildings in the best shape for students and staff alike. Although it is not part of the expectations, many also get dressed up to be part of students' events. Going above and beyond contributes to the great relationships they have with students.
The Healthy Community Initiative and the Northfield News present the Making a Difference Award cooperatively. If you know an individual or group that you would like to nominate for this award, visit www.healthycommunityinitiative.org for nomination guidelines and the easy-to-complete application – or find HCI on Facebook. Applications are accepted on an ongoing basis and are selected by a review team of HCI board members and local youth.