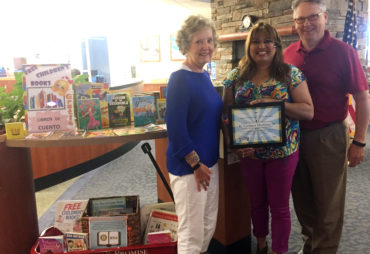 Carmen Martinez is Making a Difference
August 26, 2018
Through its "Making a Difference Award," the Healthy Community Initiative (HCI) recognizes community members or organizations who help make Northfield an even better place for young people. The award is given to an individual or group 10 times each year. In July, HCI recognized Carmen Martinez of Community Resource Bank for her efforts to encourage reading and get books into the hands of children and adults.
C.C. Linstroth, who nominated Ms. Martinez, is a volunteer who stocks book displays hosted by Northfield businesses. She visits each of these special places to supply them with books for children and adults. But for her, one place stood out in an exceptional way. Community Resource Bank's receptionist Carmen Martinez took on the responsibility for managing the bank's book collection.
But according to Linstroth, "Carmen went way out of her way to make the books appealing." Linstroth reflected that people come and go, on a mission to take care of their banking business. However, she noted, children and adults alike are drawn to the attractive display at the bank and then to the books themselves.
"There is no way a child could walk by and not want to get a book," Linstroth said. Part of the display features a bright red wagon filled with children's books. Last month, Linstroth brought in 50 books for Carmen to display, but they ran out of books before the month was even over.
Organized by the Northfield Rotary Club, Northfield Early Childhood Initiative Coalition, and Northfield Promise, the book displays are part of a literacy promotion effort designed to increase reading opportunities for Northfield youth and adults. Easy access to gently used books helps to achieve this goal and local business partners help make it possible.
Written by Kathy Sandberg
Kathy Sandberg is the communications contractor for the Healthy Community Initiative.