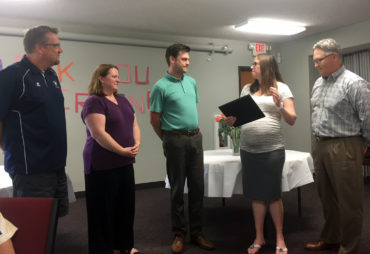 Emmaus Church is Making a Difference
May 30, 2018
Healthy Community Initiative (HCI) recently recognized Emmaus Baptist Church as the May/June 2018 "Making a Difference" award recipient.
The church was honored for its support of the Adult Basic Education (ABE) program. The award is given monthly to community members or organizations that help make Northfield an even better place for young people.
Most of the Adult Basic Education classes are held at the Northfield Community Resource Center. But, for some students, that location poses a transportation challenge. Greenvale Park Elementary had previously provided an alternative space that was closer for many ABE students. Although the school was nearby, kid-sized desks and chairs and competition for space made it difficult for the conversation groups helpful in practicing language skills.
When Emmaus Church offered space in its lower level, ABE classes were grateful for more space, lots of windows and furniture of the right size. In addition, Emmaus offered warm hospitality, kitchen facilities and room for the many ABE volunteers to meet with groups of students according to the various language skill levels.
Clarice Grabau, ABE site facilitator, was grateful for the opportunity to offer classes in such a welcoming and hospitable space near where many students live. Adult Basic Education offers free classes for people who need to brush up on basic skills, complete their GED, prepare for college or improve their English. For more information about the offerings of the Northfield ABE program, visit their page on Facebook or the website at northfieldschools.org/communityservices/programs-for-adults/adult-basic-education.
Grabau noted that she was pleased to partner with Emmaus Baptist Church and said, "the students had a comfortable and friendly place to practice their developing English skills."
The Healthy Community Initiative and the Northfield News present the Making a Difference Award cooperatively. If you know an individual or group that you would like to nominate for this award, visit healthycommunityinitiative.org for nomination guidelines and the easy-to-complete application, or find HCI on Facebook.
Applications are accepted on an ongoing basis and are selected by a review team of HCI board members and local youth.
By Kathy Sandberg
Kathy Sandberg is the communications contractor for the Healthy Community Initiative.