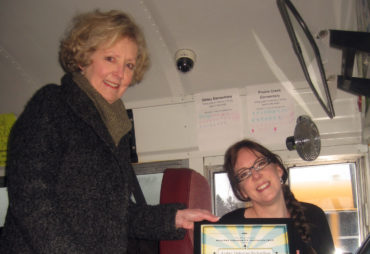 Amber Holeman-Richardson is Making A Difference
February 5, 2018
Healthy Community Initiative (HCI) recently recognized Benjamin Bus driver Amber Holeman-Richardson with the "Making A Difference" award for her enthusiastic participation in the Northfield Promise Books on the Bus program. The award is given to community members or organizations that help make Northfield an even better place for young people.
As part of the Northfield Promise benchmark to boost the reading level of our youngest readers, the Books on the Bus initiative was implemented on elementary bus routes. In partnership with the Northfield Public Library, 200 books were repurposed and placed on 10 Benjamin buses which transported elementary students. Books are kept in bins near the driver, and are available for students to enjoy while they ride. Older students are encouraged to read to younger students.
Amber – along with other fellow drivers — has embraced the program. While many students weren't too interested in the beginning, "Amber's excitement and determination" has drawn in the students, said Jenna Dardis, manager of Benjamin Bus. "By the end of October, we had older students asking for chapter books to be incorporated," she added. Amber keeps a chart on her bus, recording the number of books each student reads. At the end of each month, based on the number of books read on her bus, Amber will volunteer that number of hours to a Northfield organization.
"We are so lucky to have the amazing drivers we have, and especially Amber!" said Dardis. "Her hard work with this important program shows how involved our drivers are with the students they transport safely to school and home each day."
The Healthy Community Initiative and the Northfield News present the Making a Difference Award cooperatively. If you know an individual or group that you would like to nominate for this award, visit www.healthycommunityinitiative.org for nomination guidelines and the easy-to-complete application, or find HCI on Facebook. Applications are accepted on an ongoing basis and are selected by a review team of HCI board members and local youth.
By Cheryl Strike, Healthy Community Initiative