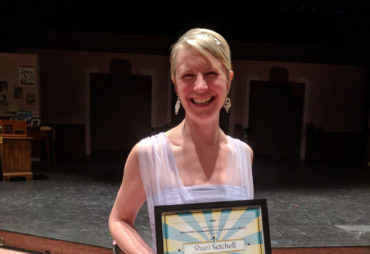 Shari Setchell is Making A Difference
December 19, 2017
Healthy Community Initiative (HCI) recently recognized local choreographer and director Shari Setchell with the "Making A Difference" award for nearly two decades of sharing and inspiring the art of dance in our community. The award is given to community members or organizations that help make Northfield an even better place for young people.
Shari's influence has touched countless Northfield youth through her work with Northfield Arts Guild classes and productions; Northfield High School musicals (including the last eight Rock and Roll Revival performances); Arcadia Charter School; the A+ Art Club; Minnesota State Academy for the Blind; and St. Olaf College.
In nominating Shari for the award, Ray Coudret and Bob Gregory-Bjorklund noted, "Shari has opened members of our entire community to their potential as movers, dancers, artists, people due to her ability to inspire novice performers to look like they've trained their whole lives, and to push experienced performers to heights they never thought possible."
"'Genius' is the word that we keep coming back to when we think of Shari Setchell," they continued. "This word is not chosen lightly. Shari is a genius when it comes to helping people visualize and achieve beyond their wildest imagined capabilities… Each person with whom she interacts is left with a confidence and belief in themselves that can carry them for a lifetime of success in other areas."
The Healthy Community Initiative and the Northfield News present the Making a Difference Award cooperatively. If you know an individual or group that you would like to nominate for this award, visit www.healthycommunityinitiative.org for nomination guidelines and the easy-to-complete application, or find HCI on Facebook. Applications are accepted on an ongoing basis and are selected by a review team of HCI board members and local youth.
By Cheryl Strike
Healthy Community Initiative