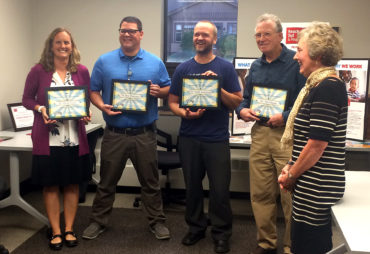 Local Pediatricians are Making A Difference
October 25, 2017
Local Pediatricians are Making A Difference
Healthy Community Initiative (HCI) recently recognized local physicians Dr. Todd Amunrud, Dr. Ben Flannery, Dr. Heidi Kram and Dr. Tim Hogan with the "Making A Difference" award for their assistance with the launch of the Reach Out and Read program. The award is given to community members or organizations that help make Northfield an even better place for young people.
Reach Out and Read is a nationwide literacy program that provides free books to children at their regular checkups. Because of the support of our local pediatricians, Northfield was the second city in Minnesota to earn the designation of a "Bookend Community," which requires that 100% of all primary healthcare clinics in the community participate in the program.
Laura Turek, Northfield Promise Reading Team coordinator, said "It takes an entire community to encourage and support children and their families as they develop essential skills like literacy. Dr. Flannery was the catalyst for bringing this program to Northfield and has been great to work with. We owe a huge thank you to the medical providers across town for their ongoing commitment to parents to make daily reading a reality in homes!"
The Northfield healthcare clinics represented – Northfield Hospitals and Clinics, HealthFinders Collaborative and Allina Health-Northfield — join more than 5,500 other sites nationwide in giving parents advice about the benefits of reading aloud to their young children.
The Healthy Community Initiative and the Northfield News present the Making a Difference Award cooperatively. If you know an individual or group that you would like to nominate for this award, visit www.healthycommunityinitiative.org for nomination guidelines and the easy-to-complete application, or find HCI on Facebook. Applications are accepted on an ongoing basis and are selected by a review team of HCI board members and local youth.
By Cheryl Strike, Healthy Community Initiative