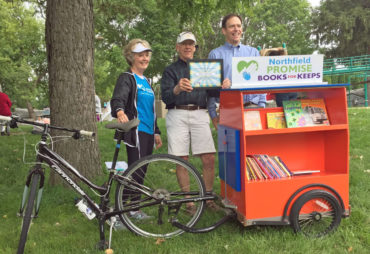 Eric Johnson is Making a Difference
August 24, 2017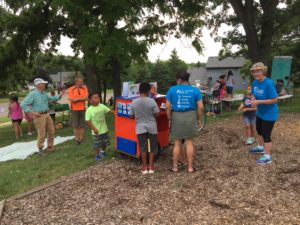 Healthy Community Initiative recently recognized Eric Johnson, who spearheaded the building of Northfield's book bike with the July/August Making a Difference award.
The award is given out to community members or organizations that help make Northfield an even better place for young people.
Teresa Jensen, Northfield Public Library's director of library and IT services, credited Johnson's passion and drive for getting the Book Bike project off the ground. "Eric is a long-time library patron, supporter and contributor to the library… as well as a year-round bike rider. We started talking about either purchasing or building a book trailer a couple of years ago," said Jensen.
Fortunately for Northfield, the project struck a chord with Johnson and he got to work researching book bikes and talking with other libraries who offered them. "Without Eric's passion and support, the Book Bike would not have been built," said Jensen. "He worked for an entire year to design a bike that would suit our outreach needs. Furthermore, he continues to tweak the bike after nearly every outing."
The Book Bike is a collaborative venture between the Northfield Public Library and Northfield Promise, which uses the bike for their book give-away program. "The library and Northfield Promise both have the mutual goal of enhancing early literacy in the community," said Jensen. "We have been happy to share the bike with Northfield Promise."
The Healthy Community Initiative and the Northfield News present the Making a Difference Award cooperatively. If you know an individual or group that you would like to nominate for this award, visit www.healthycommunityinitiative.org for nomination guidelines and the easy-to-complete application, or find Healthy Community Initiative on Facebook. Applications are accepted on an ongoing basis and are selected by a review team of HCI board members and local youth.