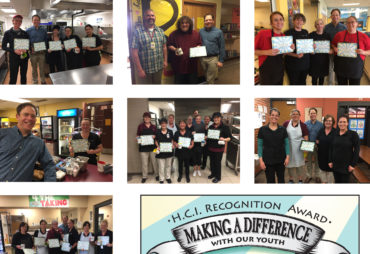 Northfield Schools Child Nutrition Staff is Making a Difference
June 1, 2017
Healthy Community Initiative recognized the Northfield Public Schools child nutrition staff with the April/May 2017 Making a Difference Award.
The award is given monthly to community members or organizations that help make Northfield an even better place for young people.
The entire staff of Child Nutrition in the Northfield school district received the award for being champions for Northfield youth on a daily basis.
"The Child Nutrition staff members go out of their way every single day to connect with kids," said the nominator. "Their smiles and their interest in the children are perfect examples of the important role that all adults play in helping kids succeed."
Director of Child Nutrition Services Stephany Stromme noted that in the Northfield School District's six buildings, 30 Child Nutrition staff members prepare and serve the equivalent of 2,800 lunches and 600 breakfasts every school day. As part of those meals, 17,000 pounds of fruits and vegetables are served each month. Additionally, students drink approximately 41,000 cartons of milk monthly!
The Child Nutrition staff members work hard to ensure that our students get healthy, balanced food on a daily basis and their positive attitude is a bonus for Northfield students.
The Healthy Community Initiative and the Northfield News present the Making a Difference Award cooperatively. To nominate an individual or group for this award, visit www.healthycommunityinitiative.org for nomination guidelines and the easy-to-complete application, or find Healthy Community Initiative on Facebook. Applications are accepted on an ongoing basis and are selected by a review team of HCI board members and local youth.
By Cheryl Strike, HCI