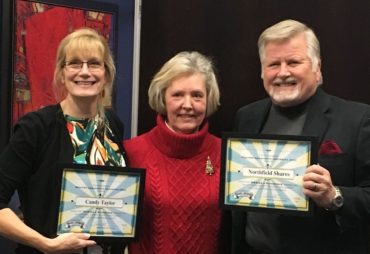 Northfield Shares is Making a Difference
January 18, 2017
Healthy Community Initiative (HCI) recently recognized Northfield Shares, and its work related to the Cannon River floodwaters in Northfield, with the November and December 2016 "Making a Difference" Award.
The award is given out monthly to community members or organizations that help to make Northfield an even better place for young people.
Northfield Shares, the community organization spearheading local volunteerism and philanthropy efforts, took the lead on floodwater damage prevention when the Cannon River crested and flooded this fall.
Northfield Chief of Police Monte Nelson said the city of Northfield has come to rely on Northfield Shares, led by Director of Community Engagement Candy Taylor, to assist during flood events.
"Northfield Shares has been instrumental in providing assistance to business and property owners when their properties are threatened by flood waters," he said. "Candy works quickly and efficiently with our local schools to get lists of student volunteers ready to assist property owners."
It is the ability to amass a large number of volunteers within a short time that makes the partnership between Northfield Shares and the city of Northfield so valuable.
"Especially during emergency events like flooding, city resources are already spread thin and there are not enough people available to assist all private property owners," said Nelson. "Northfield Shares fulfills this need very well."
During this fall's flooding, Northfield Shares was in regular communication with city staff as the volunteer effort unfolded.
"They worked with the Northfield High School to organize and transport students to properties requesting sandbagging assistance," said Nelson. "By the early morning hours of Thursday, Sept. 22, Candy and NHS had the wheels in motion to have sandbagging volunteers ready by that morning."
The Healthy Community Initiative and the Northfield News present the Making a Difference Award cooperatively. Click here for nomination guidelines and the application to nominate an individual or group for this award.  Applications are accepted on an ongoing basis and are selected by a review team of HCI board members and local youth.