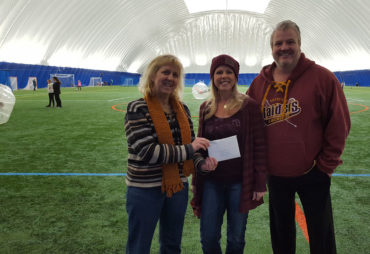 Dundas Dome Donates Grand Opening Proceeds to Youth Sports Collaborative
January 26, 2017
The Dundas Dome held its Grand Opening on December 17, 2016.  The dome was open from 4:00 to 6:30 for community members and their families to check out the facility and get some exercise.  Bouncy houses were available for the kids, along with soccer nets, inflatable body balls, badminton and plenty of open space to run and throw a football.
Community members donated more than $500 throughout the evening, all of which will go directly to the Northfield Youth Sports Collaborative scholarship fund.
"We are thrilled to have a new community partner in the Dundas Dome," said Cheryl Strike of the Youth Sports Collaborative.  "Not only is the Dome filling a tremendous sports facility need in Northfield, but the Fosters and the Whitemans have already proven to be supportive of filling gaps in the community as they see them."  Owners of the Dome are Mike and Sherry Foster, and Paul and Shelly Whiteman.
The Northfield Youth Sports Collaborative is a collective of 14 local sports associations.  With support from the Community Action Center of Northfield, the Sports Collaborative coordinates a scholarship fund to help cover registration fees for youth from families with limited income.  Since its inception in 2004, the Collaborative has provided more than 2,300 scholarships – totaling more than $220,000 – for low-income youth to participate in local sports associations.
For more information, please contact Cheryl Strike at 507-664-3504.
Photo: Sherry and Mike Foster (center & right), owners of the Dundas Dome, present the proceeds from the Grand Opening to Cheryl Strike of the Northfield Youth Sports Collaborative.