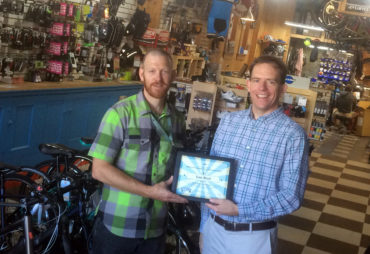 Tom Bisel is Making a Difference
September 24, 2016
Healthy Community Initiative (HCI) recently recognized Tom Bisel, owner of Downtown Bicycles in Northfield, with the September 2016 "Making a Difference" Award.
The award is given out monthly to community members or organizations that help to make Northfield an even better place for young people.
Downtown Bicycles, formerly Fit to be TRI'd, began in 2009 as a store specializing in high quality products and services for multi-sport athletes. It has evolved into a full-service bike shop offering new and used bikes, service, repair and accessories.
Tom believes in superior customer service, and it is evident in his store as he is often found educating his customers, and providing them with information and resources to meet their own fitness goals. Bill Nelson, co-owner of the Tiny's building where Downtown Bicycles is currently located, has known Tom since he opened his store in 2009.
"I've seen Tom adjust his business in many ways to cater to young people," Nelson said. "Tom is a skilled enough cyclist to ride only with the fastest bikers in town. Instead, he often organizes youth rides to help young riders develop as cyclists. Each year, I see Tom or a member of his staff helping with bike readiness at the Y Kids Tri here in Northfield."
In addition, for the past several years, Tom has hired and trained one or more local high school students in his shop.
"I've personally seen these people grow dramatically as bike mechanics and salespeople," noted Nelson.
Amy Lunderby of HCI echoes Tom's commitment to local youth.
"We have worked with Tom recently in our out-of-school-time programming, and he has gone above and beyond in supporting our programs and ensuring that we have high-quality, safe bikes or accessories when necessary," she said. "He has proven to be a tremendous community partner, donating countless hours to Northfield kids."
An accomplished triathlete and cyclist, Tom works hard to help each customer in his shop feel safe and comfortable on their bikes, no matter their skill level.
"Tom has done a beautiful job of offering the people of this community the knowledge, skill sets and equipment to ride safely and have fun while doing it," said Laura Meyers of BikeNorthfield. "He has generously volunteered his time coordinating classes and rides and sharing his particular know-how with others. He's been a pleasure to work with as a fellow cyclist and advocate!"
The Healthy Community Initiative and the Northfield News present the Making a Difference Award cooperatively. If you know an individual or group that you would like to nominate for this award, visit www.healthycommunityinitiative.org for nomination guidelines and the easy-to-complete application, or find HCI on Facebook. Applications are accepted on an ongoing basis and are selected by a review team of HCI board members and local youth.