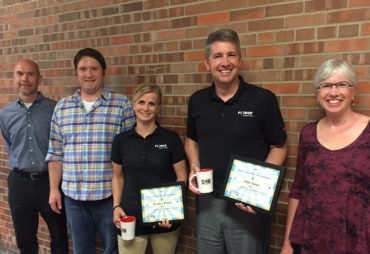 Northfield's John Stenz and Heather Poush are making a difference
August 1, 2016
Healthy Community Initiative (HCI) recently recognized John Stenz, FORCE America president, and Heather Poush, FORCE America executive administrative assistant, with the July 2016 "Making a Difference" Award.
The award is given out monthly to community members or organizations that help to make Northfield an even better place for young people.
Stenz and Poush were given the award for their commitment to helping youth explore careers through the Business and Technical Trades Career Exploration Day, which was held at Northfield Middle School in May.
Through Stenz's leadership, FORCE America commits financial and human resources to planning, coordinating and executing the event. Stenz and Poush engage well over 30 local employers and colleges who bring hands-on, interactive activities to the event.
"This was an amazing event," said Michael O'Keefe, Northfield Middle School assistant principal. "It was a convergence of people with various backgrounds and skill sets coming together to promote various business and technical career opportunities."
During this year's expo, more than 600 middle and high school students, their teachers, and their parents visited employer and college booths and explored careers in business, manufacturing, transportation, law enforcement and more.
"John and Heather also commit time monthly to the Northfield Promise initiative, volunteering their expertise as part of the Career and College Readiness Action Team and supporting the work of HCI's Youth First program," said Sandy Malecha, HCI Youth Futures coordinator.
"They have demonstrated a deep commitment to our community's youth, and we are incredibly grateful."
The Healthy Community Initiative and the Northfield News present the Making a Difference Award cooperatively. To nominate individuals or groups for this award, visit www.healthycommunityinitiative.org for nomination guidelines and the easy to complete application, or find HCI on Facebook.
Applications are accepted on an ongoing basis and are selected by a review team of HCI board members and local youth.