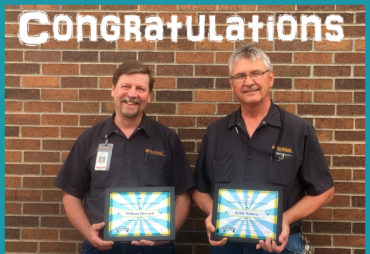 Keith Nohava and Will Howard are Making a Difference
June 27, 2016
Healthy Community Initiative (HCI) recently recognized Keith Nohava and Will Howard, custodians at Greenvale Park Elementary School, with the June 2016 "Making a Difference" Award.
The award is given out monthly to community members or organizations that help to make Northfield an even better place for young people.
Keith and Will were already working incredibly hard as elementary school custodians, yet since the start of the Greenvale Park Community School in the fall of 2014, their jobs have taken on a new meaning.
"The new community school model has definitely increased the workload of the custodians, and even changed their entire routine," said Laura Berdahl, Greenvale Park Community School co-coordinator.
Keith and Will have been endlessly flexible while they work around afterschool programming, along with a steady stream of families and students on Tuesday and Thursday evenings.
"Will's work is frequently interrupted in the evenings while he tends to plenty of unplanned mishaps and questions," said Berdahl. "He switches his direction with an easy-going style, and is always willing to step forward to assist anyone who needs it."
Additionally, each year when the first grade classrooms begin teaching their science units, Will comes in to the school during the day to share his butterfly and rock collections.
"Keith is a patient, steady presence during the day and you'll often find him chatting with a student while he does his work," said Berdahl. "He puts the needs of the students first, and puts his own convenience last."
Greenvale Park staff and students are fortunate to have Keith and Will maintaining their building; a big part of the success of the Community School can be attributed to the hard work of these two employees.
The Healthy Community Initiative and the Northfield News present the Making a Difference Award cooperatively. If you know an individual or group that you would like to nominate for this award, visit www.healthycommunityinitiative.org for nomination guidelines and the easy-to-complete application, or find HCI on Facebook. Applications are accepted on an ongoing basis and are selected by a review team of HCI board members and local youth.
By Cheryl Strike, Healthy Community Initiative