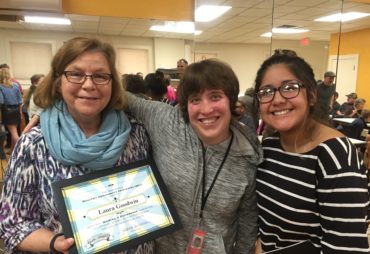 Laura Goodwin is Making a Difference
May 15, 2016
Healthy Community Initiative (HCI) recently recognized Laura Goodwin, Autism and the Arts Coordinator and instructor at the Northfield Arts Guild, with the May 2016 "Making a Difference" Award.
The award is given out monthly to community members or organizations that help to make Northfield an even better place for young people.
Goodwin created the A+ Art Club, an arts learning and production club for young artists with Autism Spectrum Disorder (ASD), and has been teaching the program to Northfield youth since 2010. A+ students make, exhibit and sell their artwork in the Northfield community, which not only gives youth the opportunity to create their own art, but also to engage and interact with the community.
"Laura had a vision almost 10 years ago of creating a safe, supportive environment for teens and young adults on the autism spectrum, where they could explore and experience art making," said Alyssa Herzog Melby, Northfield Arts Guild Executive Director. "She has turned that vision into a reality, and done so with flying colors. She focuses closely on meeting the individual needs of the participants, and taking into account community dynamics, as well."
As a parent of an A+ participant, Lynn Miland says that Laura's approach is one-of-a-kind because it goes beyond making art. "It is about making lasting friendships, building awareness and creating community," Miland said. "My daughter has been a member since it started and has rarely missed a Tuesday night because she gets to see her friends and make art: two important ingredients that contribute to her well-being."
Herzog-Melby added, "Laura is an amazing teacher who has made an impact on so many lives, not just youth, but their families, the peer volunteers from the colleges, and the teaching artists she brings in to work with the group. The Northfield Arts Guild is so proud to support Laura and her work."
The Healthy Community Initiative and the Northfield News present the Making a Difference Award cooperatively. If you know an individual or group that you would like to nominate for this award, visit www.healthycommunityinitiative.org for nomination guidelines and the easy-to-complete application – or find HCI on Facebook. Applications are accepted on an ongoing basis and are selected by a review team of HCI board members and local youth.
By Cheryl Strike