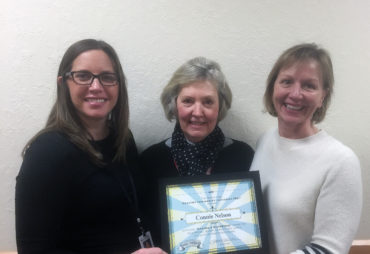 Connie Nelson is Making a Difference
April 13, 2016
Healthy Community Initiative (HCI) recently recognized Connie Nelson, former elementary teacher and current chair of the Northfield Promise Reading Team, with the March 2016 "Making a Difference" Award.
The award is given out monthly to community members or organizations that help to make Northfield an even better place for young people.
"Connie cares deeply about the people she works with," said Becky Gainey, Sibley Elementary Response to Intervention Coach and Reading Specialist. "She is calm and caring, and always puts students' needs first."
Connie was an elementary teacher or reading coach for 25 years in Northfield. She understands that classroom teachers can't do the monumental task of educating all children without additional resources. That is why she is so passionate about her role with Northfield Promise – this gives her the opportunity to continue to support Northfield youth and impact their literacy at different times in their journey. Connie has specifically been working toward the Northfield Promise benchmark of "Every Northfield child is reading at grade level by the end of 3rd Grade."
"Connie has been the driving force behind Northfield Promise's Reading Team," noted Fritz Bogott, Reading Team member and Northfield School Board member. "Even before I joined the team, I had heard about Connie's energy, passion and commitment to help all Northfield's kids learn to read."
The Healthy Community Initiative and the Northfield News present the Making a Difference Award cooperatively. If you know an individual or group that you would like to nominate for this award, visit www.healthycommunityinitiative.org for nomination guidelines and the easy-to-complete application, or find HCI on Facebook. Applications are accepted on an ongoing basis and are selected by a review team of HCI board members and local youth.
By Cheryl Strike, Healthy Community Initiative