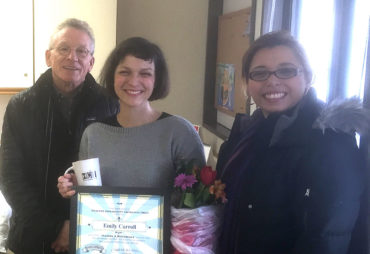 Emily Carroll is Making a Difference
March 9, 2016
Healthy Community Initiative (HCI) recently recognized Emily Carroll, certified family nurse practitioner with HealthFinders, with the January/February 2016 "Making a Difference" Award.
The award is given out monthly to community members or organizations that help to make Northfield an even better place for young people.
At HealthFinders, Emily directs clinical care, the diabetes program and the teen clinic, the work which earned her the nomination for this award. In this role, Emily teaches adolescents about making health choices. Emily also works to educate providers across the community on clinic policies and laws created to support adolescent patients and assist teens with accessing health services.
It takes a special kind of person to be comfortable discussing health topics with teenagers; for Emily, it's a big part of why she loves her job. "Emily is totally able to relate with teenagers about the very important subjects of health in a manner that is comfortable for them, as well as understandable," said Susan Sanderson, Northfield Middle School TORCH coordinator. "She's a clear and effective communicator, and extremely knowledgeable about adolescent health."
In her work at HealthFinders, Emily has helped create a special intake process to address adolescent health topics such as substance abuse, sexuality, safety and mental health. She has also helped to obtain better access to mental health therapy and counseling for area youth.
"Emily puts everyone at ease when she works with kids on very delicate topics of health," said Jennifer Lompart, English Learner teacher at Northfield High School. "She makes everything FUN and natural. Kids trust her and know that she will work with them on a personal and professional level."
"It is evident that Emily loves her work and is highly regarded by both the adults and the youth that she works with," added Sanderson.
The Healthy Community Initiative and the Northfield News present the Making a Difference Award cooperatively. If you know an individual or group that you would like to nominate for this award, visit www.healthycommunityinitiative.org for nomination guidelines and the easy-to-complete application, or find HCI on Facebook. Applications are accepted on an ongoing basis and are selected by a review team of HCI board members and local youth.
By Cheryl Strike, Healthy Community Initiative