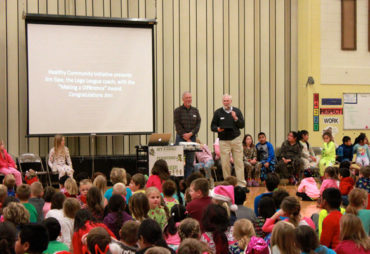 Jim Sipe is Making a Difference
January 9, 2016
Healthy Community Initiative (HCI) recently recognized Jim Sipe, Lego League coach at Greenvale Park Elementary School, with a "Making a Difference" Award.
The award is given out monthly to community members or organizations that have made a significant contribution to positive youth development.
Jim, who spent more than 30 years as an environmental engineer with the Metropolitan Council in the Twin Cities, began his journey with Lego League in the fall of 2009. He has recently retired after seven consecutive years of coaching at Greenvale Park Elementary. Lego League is much more than playing with Legos; Lego League teams – typically six to ten 4th and 5th grade students – research a real-word problem such as food safety, recycling, or energy, and are then challenged to develop a solution.
Students design, build and program a robot using the equipment provided and then compete on a table-top playing field. Students initially gather in the spring, to learn the programming aspects of the equipment, and the fall semester culminates with a tournament where students compete against other teams from across Minnesota.
Jennifer Salinas, 4th grader at Greenvale Park Elementary, participated in the fall Lego League class offered by Jim. Her team built a robot that had various missions to accomplish. "I learned a lot about teamwork," said Jennifer. "I also learned more about computers than I ever knew before." She said her favorite thing about Jim as a coach is that he teaches by doing and not just talking. "He shows us what to do first, and that's how we learn," she said.
Laura Berdahl, Greenvale Park Community School co-coordinator, noted "Jim has donated countless hours to his passion of helping kids learn about engineering. He is especially excited about sharing his knowledge with girls to get them excited about science and engineering."
The Healthy Community Initiative and the Northfield News present the Making a Difference Award cooperatively. If you know an individual or group that you would like to nominate for this award, visit www.healthycommunityinitiative.org for nomination guidelines and the easy-to-complete application, or find HCI on Facebook. Applications are accepted on an ongoing basis and are selected by a review team of HCI board members and local youth.
By Cheryl Strike