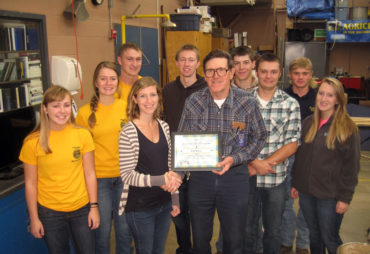 Ed Terry is Making a Difference
November 24, 2015
Healthy Community Initiative (HCI) recently recognized long-time Randolph and Northfield agriculture instructor Ed Terry with a "Making a Difference" Award.
The award is given out monthly to community members or organizations that have made a significant contribution to positive youth development.
Terry, a life-long farmer, calls what he does as an educator "raising our most important crop." He has been an agriculture instructor for 45 years, 39 of them at Randolph. Along with teaching agricultural curriculum, he incorporates life skills in all of his classes. Terry has worked with thousands of students from Randolph and Northfield on skill-building and leadership development. In 2014, he received the Minnesota Youth Educator of the Year from the Minnesota Farmers Union.
"Ed is a tremendous ambassador for our school district as he has the unique ability to communicate with a wide variety of people," said Michael Kelley, superintendent of Randolph Schools. "He talks to the students and not at them.  Ed has tremendous knowledge of not only agriculture, but of life; he has this knowledge due to how much he reads and researches what he teaches."
In his capacity as agriculture instructor, Ed serves as advisor to the district's Future Farmers of America (FFA) program. Over the years, he has had countless students receive state and national recognition for their work. In 1997, Ed was named Minnesota FFA Advisor of the Year sponsored by Farm Bureau. In 2006, the Randolph Agriculture Program was named the Outstanding Secondary Ag Program in Minnesota.
"Mr. Terry does for students what every school administrator wants from a teacher: he instills confidence and self-esteem in the students he works with," said Kelley.
The Healthy Community Initiative and the Northfield News present the Making a Difference Award cooperatively. If you know an individual or group that you would like to nominate for this award, visit www.healthycommunityinitiative.org/awards for nomination guidelines and the easy-to-complete application, or find HCI on Facebook. Applications are accepted on an ongoing basis and are selected by a review team of HCI board members and local youth.
-By Cheryl Strike, Data Specialist, Healthy Community Initiative