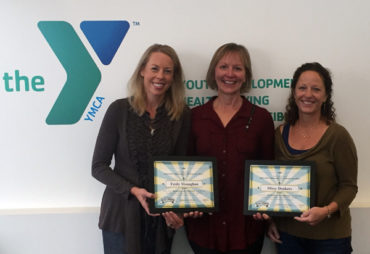 Missy Donkers and Emily Monaghan are Making a Difference in Northfield
October 21, 2015
Missy Donkers and Emily Monaghan have received the Healthy Community Initiative's "Making a Difference" Award for September and October 2015. The award celebrates groups and individuals in the community who have made a positive influence on Northfield youth.
Missy and Emily were key leaders behind the effort to bring a YMCA to Northfield over the past 10 years. They always knew that Northfield had wonderful colleges, an exceptional school system and a vibrant Senior Center, but seemed to be missing a space for youth and families to spend quality time together.
"There simply would not be a YMCA in Northfield without the hard work and tireless leadership of Missy and Emily," said Virginia Kaczmarek, Executive Director of the Northfield Area Family YMCA. "From the very beginning, as early as 2005, they knew that something was missing in our community. They wondered why we couldn't build a mission-based Y community center where everyone of all ages and socioeconomic backgrounds was welcome. That dream became a reality in September of 2014."
Only one year after opening its doors, the Y is already serving incredible numbers of youth. This past year, the Y has served more than 1,800 kids in swim lessons, youth sports, fitness opportunities and the Youth in Government program. This past summer alone, more than 250 youth participated in summer camp programs.
Currently, the Y has more than 4,800 members of all ages and hosts another 100-125 community member visits weekly. More than 800 of the members receive financial assistance through the Y's Scholarship Drive.
Kaczmarek notes that the tenacity of Emily and Missy made this a reality. "If you visit the Y on a school evening between 4:00 and 7:30 pm, you will quickly see that this truly has already become the gathering place for our youth and families, which includes a rich diversity of people," she said. "The vision and dream that both Emily and Missy had, has become a reality.
The Healthy Community Initiative and the Northfield News present the Making a Difference Award cooperatively. If you know an individual or group that you would like to nominate for this award, visit www.healthycommunityinitiative.org for nomination guidelines and the easy-to-complete application, or find HCI on Facebook. Applications are accepted on an ongoing basis and are selected by a review team of HCI board members and local youth.
By Cheryl Strike