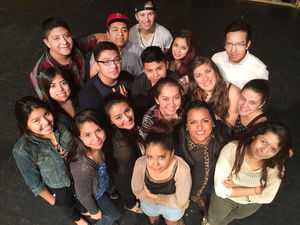 Latino (And Friends!) Play Festival is Making a Difference in Northfield
July 9, 2015
The Latino (And Friends!) Play Festival has received the Healthy Community Initiative's "Making a Difference" Award for June.
The award celebrates groups and individuals in the community who have a positive influence on Northfield youth.
The Latino Play Festival, now in its fifth year, is the culmination of a year-long Performing Arts class at the Northfield High School. The class was created as an opportunity for Latino students to tell their stories through theater, and has, in turn, become a very powerful way for the Northfield community to learn about some of the struggles the students and their families face.
This year, the 17 students performed 25 acts about various topics, including racism, health care, deportation and rape.
The first half of the class focuses on developing the story, writing and speaking.
Beginning in February, the script is finalized; students are in the auditorium doing rehearsals in March. The performances are held at the Northfield Arts Guild theater on two weekends in May.
Northfield High School English Learner teacher Jennifer Lompart, who has taught the class since its inception, never tires of seeing the new students go through this process.
"These are students who have seen or experienced things that many of us cannot imagine," Lompart said. "One of the most rewarding things for the student is that, instead of the story possibly ruining their lives, the story actually becomes somewhat valuable and as a result, it loses its power over the student. Oftentimes, these are stories that the student would not be able to share with anyone at all. And instead, they are now sharing them with the whole community."
Teddy Gelderman, co-coordinator of the Northfield High School TORCH program, agrees that the Latino Play Festival is impactful for both the students and the audience.
"What makes the Latino Play Festival special is how genuine and honest the students are," he said. "This authenticity is only possible because of the safe space Jennifer Lompart creates − not just in the drama class, but in all of her classes and with all of her students."
Gelderman also said that anyone who has seen the performances witnesses how brave and confident the students are when they tell their stories.
"But what most people don't see," he said, "is that this bravery and confidence is visible long after the production. For any student to be successful, they must advocate for themselves; the Latino Play Festival gives students the tools and experiences they need to do just that."
The Healthy Community Initiative and the Northfield News present the Making a Difference Award cooperatively. If you know an individual or group that you would like to nominate for this award, visitwww.healthycommunityinitiative.org for nomination guidelines and the easy-to-complete application, or find HCI on Facebook. Applications are accepted on an ongoing basis and are selected by a review team of HCI board members and local youth.