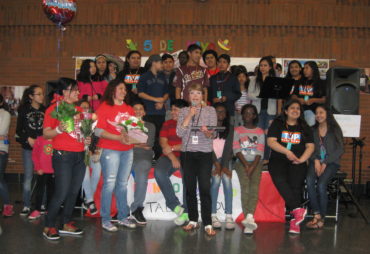 Susan Sanderson is Making a Difference
May 4, 2015
Susan Sanderson has received the Healthy Community Initiative's "Making a Difference" Award for April. The award celebrates groups and individuals in the community who have a positive influence on Northfield youth.Susan Sanderson Making a Difference.
Susan serves on the board of the Northfield Union of Youth/The Key, is the co-chair of the Northfield Mayor's Task Force on Youth Alcohol & Drug Use, and has been the coordinator of the TORCH (Tackling Obstacles and Raising College Hopes) program at the Northfield Middle School for the past nine years. In this role, Susan works with students who are minority, low-income, and/or potential first-generation college attendees.
The success of the TORCH program is well-known in Northfield. TORCH recently celebrated its tenth anniversary and the program is serving more than 500 current students in grades 6-12, as well as over 100 alumni! Out of 79 seniors in the program from the class of 2014, 96 percent graduated; of those graduating seniors, 87 percent applied for college and 100 percent were accepted into a college program. Many people attribute a large portion of this success to Susan Sanderson.
"I have never met anyone else who is more dedicated to meeting the needs of all students," says Ruben Alvarez, ESL teacher at Northfield Middle School. "She understands that the most important step in helping them succeed is to build a relationship. It is amazing to see how she has connected with the entire community, students gravitate to her and they are very grateful for the support she provides."
"Susan believes that all our students can do well in middle school and high school, and beyond high school, in life," says Greg Gelineau, Northfield Middle School interim principal. "She also gets them to believe in themselves by holding them accountable, supporting them in all aspects of their lives and connecting them to as the many resources as possible. She is definitely making a difference in the lives of her students and their families."
The Healthy Community Initiative and the Northfield News present the Making a Difference Award cooperatively. If you know an individual or group that you would like to nominate for this award, visit www.healthycommunityinitiative.org for nomination guidelines and the easy-to-complete application, or find HCI on Facebook. Applications are accepted on an ongoing basis and are selected by a review team of HCI board members and local youth.