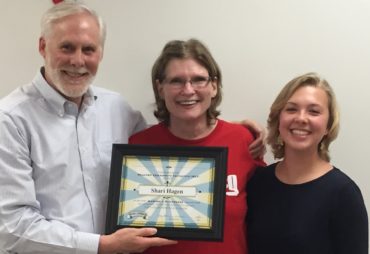 Shari Hagen is Making a Difference
May 29, 2015
Shari Hagen has received the Healthy Community Initiative's "Making a Difference" Award for May. The award celebrates groups and individuals in the community who have a positive influence on Northfield youth.
Hagen is retiring this spring after teaching Spanish at Northfield High School for 27 years. During those years she has touched the lives of thousands of students and their families. She provides students with academic and emotional support and creates an environment that makes learning fun and meaningful.
"For the past two years I have watched Señora Hagen go out of her way to help students with anything they need," says Siri Olson, a junior at Northfield High School. "She makes an extra effort to give students a special experience, everything from having a culturally themed party in class to going out into the community to help younger students."
"What has separated her in the minds and eyes of students is the ability to build relationships in a way that students feel safe," says Joel Leer, principal at Northfield High School. "Students can trust her with anything and everything. She sees her students as an extension of her own family. Getting to school at 6 a.m. or staying until 6 p.m. for something, she'll do anything and everything to help kids. 'Mom role' is the most accurate way to describe Shari's relationship with her students."
The Healthy Community Initiative and the Northfield News present the Making a Difference Award cooperatively. If you know an individual or group that you would like to nominate for this award, visit www.healthycommunityinitiative.org for nomination guidelines and the easy-to-complete application, or find HCI on Facebook. Applications are accepted on an ongoing basis and are selected by a review team of HCI board members and local youth.