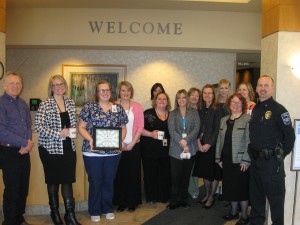 Allina Health is Making a Difference
February 28, 2015
Allina Health has received the Healthy Community Initiative's "Making a Difference" Award for February. The award celebrates groups and individuals in the community who have a positive influence on Northfield youth.
This is the fourth consecutive year that Allina Health has teamed up with Free Bikes 4 Kidz, a non-profit organization geared toward helping all youth ride into a happier, healthier childhood by providing bikes to those most in need. 
This fall, the Allina Health Northfield Clinic collected 100 bikes from generous Northfield community members. The clinic then distributed 150 bikes (some collected at other Allina Health clinics) to Northfield area youth at an event in December co-hosted by Healthy Community Initiative and Greenvale Park Community School.
"We're thankful to the Allina Health Northfield Clinic for their involvement with this program. Without their support we could not have done something to this scale," said Erin Bailey, Director of Community Services for Northfield Public Schools and Healthy Community Initiative board member. "We had families show up to the event who were able to pick out bikes for all their kids from toddlers to teenagers."
The program not only provides bikes to kids who might not otherwise have one, it also provides an opportunity for community members to come together and give back. Volunteers from the Northfield Police Department, Allina Health, Bike Northfield and the Northfield community fit kids with helmets, handed out education booklets, distributed bikes and made minor bike adjustments.
"We're honored to be recognized for our efforts and are grateful to the Healthy Community Initiative, the Northfield Police Department and Greenvale Park Community School for their help in making this such a successful program in Northfield," said Barb Barlau, Clinic Manager at Allina Health Northfield Clinic. "I'm also very proud of our employees who continue to be engaged in this program and committed to promoting lifelong, healthy habits in the community we serve."
The Healthy Community Initiative and the Northfield News present the Making a Difference Award cooperatively. If you know an individual or group that you would like to nominate for this award, visit www.healthycommunityinitiative.org for nomination guidelines and the easy-to-complete application, or find HCI on Facebook. Applications are accepted on an ongoing basis and are selected by a review team of HCI board members and local youth.