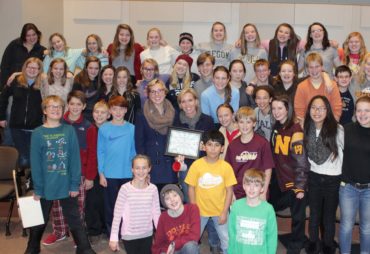 Northfield Youth Choirs Director is Making a Difference
December 8, 2014
Elizabeth Shepley, the artistic director of the Northfield Youth Choirs, has received the Healthy Community Initiative's "Making a Difference" Award for November. The award celebrates groups and individuals in the community who have a positive influence on Northfield youth.
The Northfield Youth Choirs (NYC) consists of seven choirs and summer programs that serve 200 singers in grades preK-12 and 50 college students and adults. Shepley has been an NYC conductor since 2001 and has served as its artistic director since 2005.
Under Shepley's leadership, NYC singers have performed locally, regionally and internationally; this summer she will lead a tour to New York City, where Northfield singers will participate in a children's choir series at Carnegie Hall.
NYC Board President Dan Dressen said the Northfield Youth Choirs organization is one of the "gems that distinguishes the quality of life in Northfield."
"Through her imagination, commitment to excellence and indefatigable spirit, Liz Shepley has led NYC to remarkable heights, both organizationally and musically. She continues to attract a loyal following of volunteers to serve the purposes of the choirs, and I count myself lucky to be one of them," Dressen said.
Shepley said working with young people is tremendously gratifying.
"As the kids gain more and more experience, seeing their transformation musically — and especially in confidence, poise, and expression — is astounding. Hearing them come together to do something they can't do alone is incredible," she said. "And, for these kids who are all involved in myriad activities and carrying a challenging class load, singing together is both calming and exhilarating; it soothes the nerves and elevates the spirit."
The NYC winter concert, "Sing for Joy," will be presented at 3 p.m. on Dec. 13 at Carleton College's Skinner Chapel and is open to the public.
Photo: Liz Shepley, center, with HCI board member Jane Ludwig and members of the NYC Concert Choir. Photo by Mike Paulsen.

********************************************
The Healthy Community Initiative and the Northfield News present the Making a Difference Award cooperatively. If you know an individual or group that you would like to nominate for this award, CLICK HERE for nomination guidelines and the easy-to-complete application or find HCI on Facebook.  Applications are accepted on an ongoing basis and are selected by a review team of HCI board members and local youth.