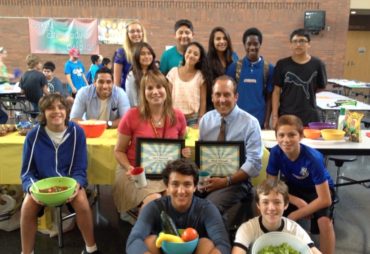 Garden Project Earns Northfielders the Making a Difference Award
September 2, 2014
Two Northfield residents who helped middle school students plant and care for a summer vegetable garden have received the Healthy Community Initiative's "Making a Difference" Award for August. The award celebrates groups and individuals in the community who have a positive influence on Northfield youth.
Sara Tetreault, a site lead for the school district's Summer BLAST program, and her husband, Hank, led a group of 20 rising ninth graders through the process of planting, weeding and watering at garden at the SEEDS farm. The garden project was an enrichment activity for students enrolled in BLAST, a seven-week program for middle school students designed to close the achievement gap.
Susan Sanderson, the middle school TORCH coordinator, nominated the Tetreaults for the award. "Hank and Sara not only supported and nurtured a garden, but more importantly, they supported and nurtured a great group of rising ninth-graders," she said.
Under Hank Tetreault's guidance, the students planted the garden at the end of May and visited it two times a week to weed and water the plants. The Tetreaults also tended the garden at other times each week when the students couldn't be there. By the third week of June, students began harvesting the produce, which included peas, beans, lettuce, spinach, squash, zucchini, tomatoes, broccoli and basil.
"It was fun just watching how interested they are in the gardening process," Hank Tetreault said. "They asked questions about how it grows, and why we have to weed and water. One of the first questions they asked was, 'How come it doesn't grow in the city?'"
The students and the Tetreaults celebrated the end of the project in early August with a banquet featuring fresh produce from the farm and foods made from the produce, like zucchini bread and pesto.
"The kids have been super-engaged, and this was a fun way to end – with a salad," Sara Tetreault said.
Photo: Hank and Sara Tetreault with Summer BLAST students and their garden produce. Photo by Joy Riggs
********************************************
The Healthy Community Initiative and the Northfield News present the Making a Difference Award cooperatively. If you know an individual or group that you would like to nominate for this award, CLICK HERE for nomination guidelines and the easy-to-complete application or find HCI on Facebook.  Applications are accepted on an ongoing basis and are selected by a review team of HCI board members and local youth.