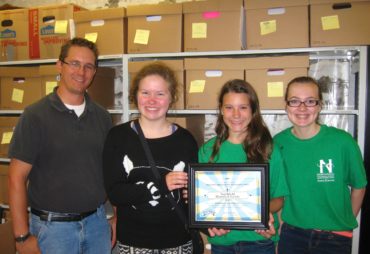 Northfield Historical Society is Making a Difference
July 29, 2014
The Northfield Historical Society has received the Healthy Community Initiative's "Making a Difference" Award for July. The award celebrates groups and individuals in the community who have a positive influence on Northfield youth.
The historical society received the award for engaging local students in four museum programs:
• Junior Curators, a summer program for students between the seventh and eighth grades, which has about 45 participants;
• SCOPE (Student Community Outreach Program Experience), a gifted and talented program for eighth graders offered during the school year, which has resulted in the publication of books including Caught in the Storm: a Field Guide to the James and Younger Gang Escape Trail.
• Junior Posse, a program in which about 25 students who have completed eighth or ninth grade learn the history of the 1876 bank raid and give summer tours at the museum;
• Summer assistants, open to a couple of students in grades 10-12. These students supervise the Junior Curators and serve as aides to the executive director.
The programs aim to enable students to make meaningful contributions to local history through their involvement as researchers, writers, interpreters or ambassadors. More than 900 youth have participated in the programs since they were started in 1992 by then-Northfield Middle School teacher Ron Morris. Morris has since retired.
Teacher Earl Weinmann, who took over as programs supervisor in about 1997, said the students lend enthusiasm and excitement to the museum experience.
"You can go in and be greeted by a seventh grader, get a tour by an eighth or ninth grader, and as you leave, get a book written by an eighth grader," he said. "All these programs tell the public that our youth can and do make a meaningful contribution to our community and to our local history. That has been the emphasis in every single program we do – not to have the students as figureheads, not to have them as tokens, but to have them in the trenches, producing a product, or giving an interpretation, for our local citizens and for our visitors from all over the world."
Northfield Historical Society Executive Director Hayes Scriven said the museum could not put on some of its programs without the students. For example, the Junior Curators conduct research and write the scripts for the annual Cemetery Stories event in October.
"I like the program because it gets students interested in history who might be on the fence about it – it sets them on the path to learning more and thinking about how they might make a living at it," Scriven said.
Weinmann said SCOPE is made possible by a partnership between the historical society, the Northfield school district and Carleton College, which provides college interns to help the middle school students with their research and writing. Other businesses and organizations that have provided assistance include EcoTrans, which donates transportation for the SCOPE students.
"It's not a historical society program, and it's not my program – I really see it as a community program," Weinmann said.
Photo: From left to right: Northfield Historical Society Executive Director Hayes Scriven, summer assistant Erin Hahn and Junior Curators Siri Lindell and Ariana Beeby take a break from work in the society's archives. Photo by Joy Riggs
********************************************
The Healthy Community Initiative and the Northfield News present the Making a Difference Award cooperatively. If you know an individual or group that you would like to nominate for this award, CLICK HERE for nomination guidelines and the easy-to-complete application or find HCI on Facebook.  Applications are accepted on an ongoing basis and are selected by a review team of HCI board members and local youth.