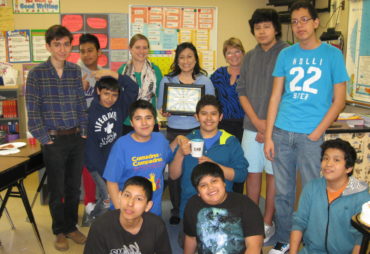 Pregnancy Prevention Program Coordinator is Making a Difference
June 3, 2014
The coordinator of a pregnancy prevention program for Latino youth has received the Healthy Community Initiative "Making a Difference" Award for May. The award celebrates groups and individuals in the community who have a positive influence on Northfield youth.
Clarita Kell has been a resource and advocate for Latina and Latino students for more than 10 years through the Comadres and Compadres Pregnancy Prevention program. The program aims to help teens in grades 6-12 learn about themselves, and how their attitudes, beliefs and behaviors can influence their futures. It has been part of the HealthFinders Collaborative since 2010.
The students meet with Kell in weekly sessions to discuss difficult topics of growing up, including sexuality, sexual health and negotiating the future. Kell also created a peer-to-peer program that brings the high school students and middle school students together in "Friends Teaching Friends" classes.
In nominating Kell for the award, Susan Sanderson, the middle school TORCH coordinator, and Laura Turek, HealthFinders evaluation and outreach coordinator, wrote: "One of the most important aspects of her role is how she reaches out to connect with the parents. This is proven to be one of the most effective ways to enhance health for youth, and she does it faithfully through emails, phone calls home and parent presentations at the end of each grade level session. Clarita is an amazing resource for the youth in Northfield."
–written by Joy Riggs, freelance journalist
Pictured above: Clarita Kell, center, receives her award during a weekly session with members of the Comadres/Compadres program. Photo by Joy Riggs.
********************************************
The Healthy Community Initiative and the Northfield News present the Making a Difference Award cooperatively. If you know an individual or group that you would like to nominate for this award, CLICK HERE for nomination guidelines and the easy-to-complete application or find HCI on Facebook.  Applications are accepted on an ongoing basis and are selected by a review team of HCI board members and local youth.