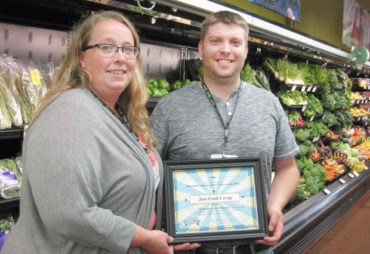 Just Food Co-op is Making a Difference
June 30, 2014
Just Food Co-op, a community-owned natural foods market and deli, has received the Healthy Community Initiative's "Making a Difference" Award for June. The award celebrates groups and individuals in the community who have a positive influence on Northfield youth.
The Northfield business was nominated for the award because of its community outreach efforts. These include providing healthy snacks for youth in the school district's summer PLUS program, and supporting the Multicultural Cooking Club run by the Growing Up Healthy coalition.
The club meets the first Monday of every month at 5:30 p.m. at St. John's Lutheran Church in Northfield. It began as a way for members of the Latino community to socialize, but now the club strives to build cross-cultural relationships and is open to anyone in the community who's interested in learning how to make Latin-inspired dishes and other ethnic cuisine.
Leah Eby, the coordinator of Growing Up Healthy, said Just Food has been an incredible cooperative partner.
"Food is a powerful tool for bringing people together, and they understand that better than anyone," she said. "Their dedication to community outreach has enabled us to expand the reach of our own work, and together we have created opportunities for community building that have led to relationships that continue beyond the confines of cooking club."
Pat Neily, Just Food's general manager, said collaborating with other local organizations and providing education about healthy eating and sustainable living are important parts of the Co-op's mission.
"We are fortunate that this community has great ideas and great programs that fit into our mission," he said.
Stephanie Aman, the marketing and member services manager, said Just Food is always looking for ways to collaborate on initiatives related to youth, families and health. For more information, contact her at outreach@justfood.coop.
–written by Joy Riggs, freelance journalist
Top photo: Stephanie Aman, marketing and member services manager, and Pat Neily, general manager, display Just Food's award amid the healthy produce available at the community-owned natural foods market. By Joy Riggs
Bottom photo: Participants of the Multicultural Cooking Club sample the results of an evening's culinary lesson. Submitted by Growing Up Healthy
********************************************
The Healthy Community Initiative and the Northfield News present the Making a Difference Award cooperatively. If you know an individual or group that you would like to nominate for this award, CLICK HERE for nomination guidelines and the easy-to-complete application or find HCI on Facebook.  Applications are accepted on an ongoing basis and are selected by a review team of HCI board members and local youth.