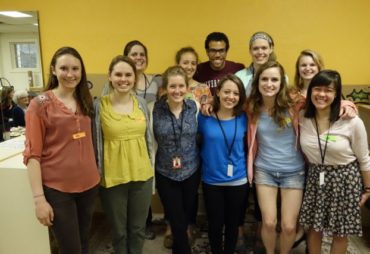 Art Club Peer Mentors are Making a Difference
May 5, 2014
Thirteen peer mentors who volunteered with an art program for teens and young adults on the autism spectrum have received the Healthy Community Initiative "Making a Difference" Award for April. The award celebrates groups and individuals in the community who have a positive influence on Northfield youth.
The A+ Art Club: Autism and the Arts provides the opportunity for participants ages 15 to 21 to get together with college students and guest artists each week at the Northfield Arts Guild to work on art projects and develop social skills. The program began in 2009 and is coordinated by Laura Goodwin and Meg Ojala.
"Our program's success is due greatly to our very dedicated base of peer mentors. They have devoted many hours to make connections with club members to help build a supportive community for them," Goodwin said. "We are changing lives, not only for those living on the autism spectrum but for our volunteers as well."
At the end-of-the year celebration on April 22, parents, participants, and artists spoke warmly and enthusiastically about how everyone involved in the program has benefited from the experience. The college student mentors who received the award – 12 from St. Olaf and one from Carleton – are: Marit Block, Anna Carlson, Kelsey Daly, Dillon Davis, Gina Gaetz, Brooke Granowski, Mary-Catherine Hartel, Emma Johnson, Jae Mawby, Addie Rosenwinkel, Kara Sajeske, Lara Shefelbine, and Ida Sobotik.
Artwork made throughout the past year will be displayed next month in the second floor gallery of the Northfield Arts Guild, 304 Division St. The public is invited to the A+ Art Club gallery opening on Tuesday, May 6. There will be a reception in the lower studio that evening from 6:30-8:30 p.m.
The A+ Art Club peer mentors pictured above: Front row, left to right: Jae Mawby, Emma Johnson, Gina Gaetz, Kelsey Daly, Brooke Granowski, Ida Sobotik. Back row: Anna Carlson, Marit Block, Dillon Davis, Addie Rosenwinkel, Lara Shefelbine. Not pictured: Mary-Catherine Hartel and Kara Sajeske. Photo by Meg Ojala.
The Healthy Community Initiative and the Northfield News present the Making a Difference Award cooperatively. If you know an individual or group that you would like to nominate for this award, CLICK HERE for nomination guidelines and the easy-to-complete application or find HCI on Facebook.  Applications are accepted on an ongoing basis and are selected by a review team of HCI board members and local youth.