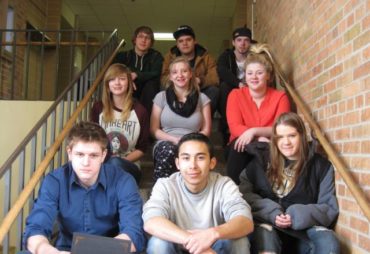 Northfield Area Learning Center Students are Making a Difference
March 19, 2014
Sixteen students and a teacher from the Northfield Area Learning Center (ALC) who have helped get food to youth and families in need have received the Healthy Community Initiative "Making a Difference" Award for March. The award celebrates groups and individuals in the community who have a positive influence on Northfield youth.
Each week, ALC students fill an average of 17 backpacks with donated food and deliver them to social workers at Bridgewater, Greenvale Park and Sibley elementary schools, the middle school, and the high school. The backpacks are also distributed to families in need at St. Dominic's school, Arcadia and the Three Links senior apartments. During the 2012-2013 school year, students packed and delivered 535 bags of food.
Teacher Cheryl Mathison said the experience has taught her students many things, including the fact that there are people in the community who don't have enough food.
"It makes them feel better knowing they are making a difference in the lives of these families. They know that they are not just 'filling or delivering' backpacks, they are feeding people," Mathison said.
Students who were recognized are Paul Brekkestran, Demetrius Brown, Adam Busch, Lizzy Deutsch, Courtney Fahey, Jesse Henry, Meghan Kalkman, Miranda Keilen, Bryce Knutsen, Autumn Kraudy, Brad Mead, Zach Morris, Arturo Nieves, Daniel Rosvold, Devon Walker, and Kayla Wierson.
The Backpack Food program launched at the Alternative Learning Center in 2010, and it expanded in 2011 after receiving a $1,000 grant from Thrivent Financial. In both 2012 and 2013 it received anonymous $1,000 donations from an out-of-town business owner, and earlier this year it received $4,500 from the Sweet Charity Dessert Auction organized in December by Allyson Bernstorf.
Mathison said the program is always looking for used backpacks – the larger-sized ones, not those designed for young kids – and also welcomes donations of food and money. Items can be dropped off at the office of the school, located at 201 Orchard St.
Photo, front row, left to right: Adam Busch, Arturo Nieves, Courtney Fahey; middle row: Miranda Keilen, Autumn Kraudy, Kayla Wierson; back row: Paul Brekkestran, Bryce Knutsen, Brad Mead
Not pictured: Demetrius Brown, Lizzy Deutsch, Jesse Henry, Meghan Kalkman, Zach Morris, Daniel Rosvold, Devon Walker, teacher Cheryl Mathison
The Healthy Community Initiative and the Northfield News present the Making a Difference Award cooperatively. If you know an individual or group that you would like to nominate for this award, CLICK HERE for nomination guidelines and the easy-to-complete application or find HCI on Facebook.  Applications are accepted on an ongoing basis and are selected by a review team of HCI board members and local youth.