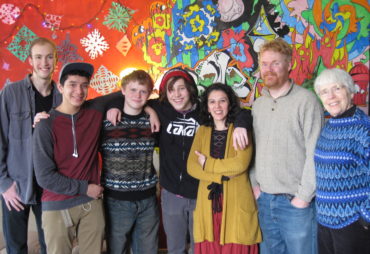 Skateboard Coalition Advisers are Making a Difference
February 18, 2014
Three adult advisers to the Northfield Skateboard Coalition received the Healthy Community Initiative "Making a Difference" Award for January/February. The award celebrates groups and individuals in the community who have a positive influence on Northfield youth.
Cecilia Cornejo, Rob Hardy and Jane McWilliams have regularly volunteered their time during the past two years helping youth from the Skateboard Coalition work toward the goal of building a permanent skate park in Northfield. The Parks and Recreation Board has selected Old Memorial Park as the location, and the project is in the design phase.
McWilliams said even though her children are grown, and she had no personal interest in the skate park, she felt an obligation as a citizen to help bring closure to a project that's been discussed and debated since 2005.
"It helps to have people in the community recognize the importance of this activity for a significant number of youth," she said. "It's a combination art form and athletic challenge. It requires discipline, persistence, and lot of hard work, and I've appreciated learning more about it."
Cornejo is a filmmaker, and she worked with the youth to record all the meetings leading up to the time the permanent location was selected. They have begun editing the footage, and she hopes to have the documentary completed by May of 2015. They are also working on a fundraising video, which should be completed by the end of this month.
She said the best part of the project, for her, has been watching the youth in action. "When we had the temporary park, I'd be there every afternoon. It was so inspirational to see them skating – they have so much perseverance. They are devoted to what they do."
–written by Joy Riggs, freelance journalist
********************************************
The Healthy Community Initiative and the Northfield News present the Making a Difference Award cooperatively. If you know an individual or group that you would like to nominate for this award, CLICK HERE for nomination guidelines and the easy-to-complete application or find HCI on Facebook.  Applications are accepted on an ongoing basis and are selected by a review team of HCI board members and local youth.